You can use your gym to get better returns that the stock market and real estate. With the right offer and the right marketing, you can bring your cost per lead down while bringing the strength of your offer up and make great profits. Gyms, when run well, with great marketing, and a strong offer can yield incredible returns month over month for the ownership. Here is how.
Getting A Big Return On Your Ads Is As Simple As: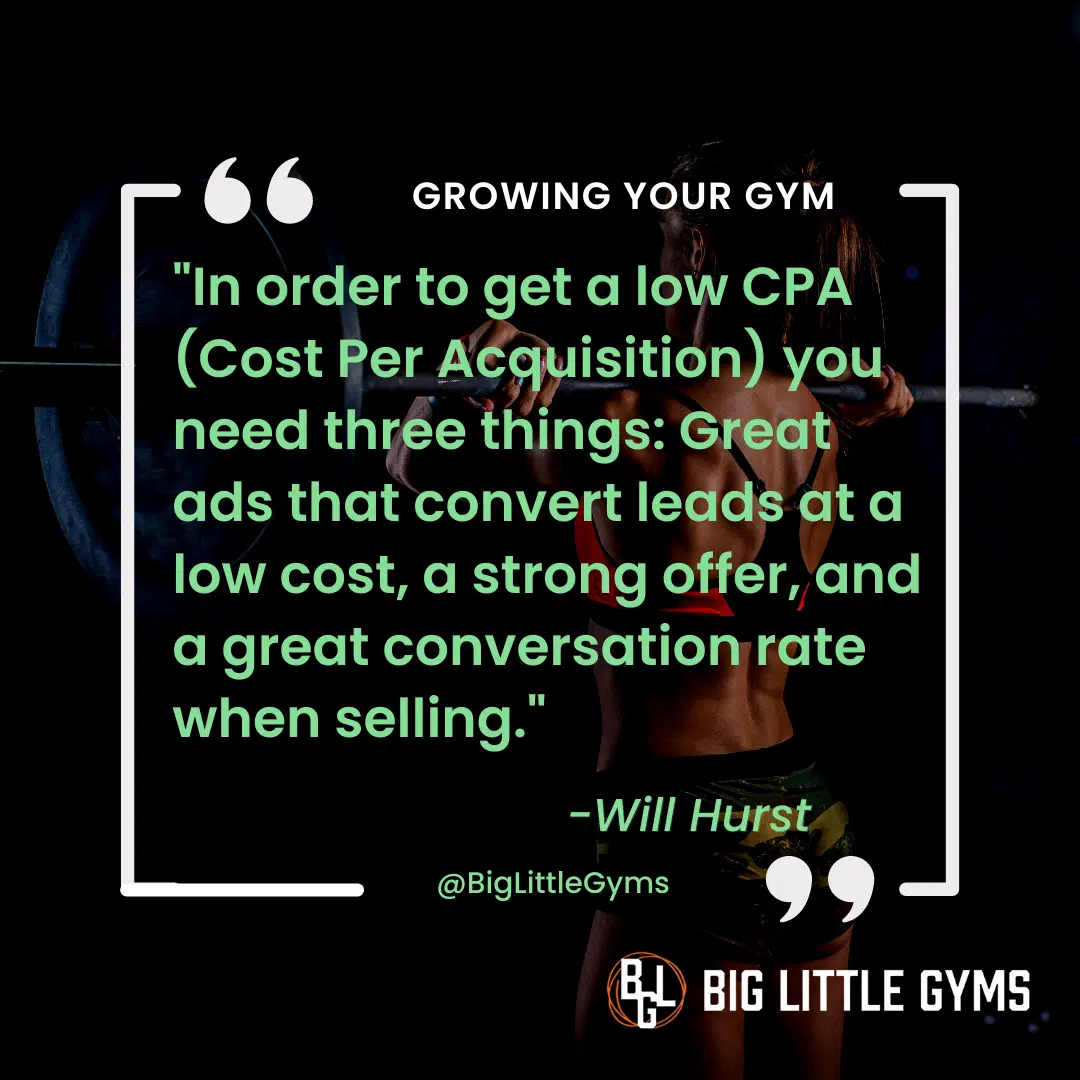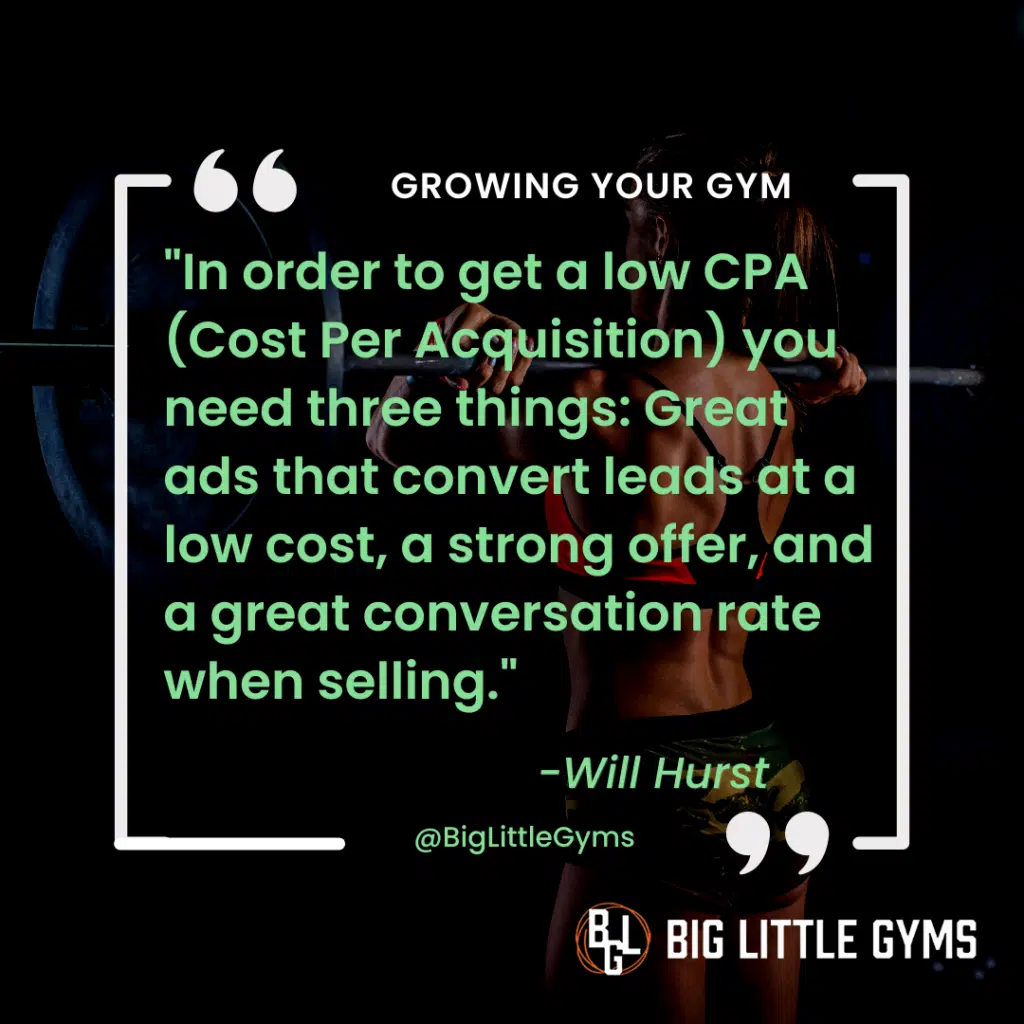 How To Get A Crazy Low Cost Per Acquisition On New Gym Members
In order to get a low CPA (Cost Per Acquisition) you need two things: Great ads that convert leads at a low price and a great conversation rate when selling.
You can bring your cost per lead down by optimizing your ad campaigns and offer.
You can bring your conversion rate up by optimizing your sales process.
The key is to track your numbers so that you know what's working and what's not. You cost per acquisition is super simple of math, it's simply how much it costs you to get a lead multiplied by the number of leads it takes you to acquire a member.
With paid ads, for example, your cost per lead might be $10, and you may need to work 5 of those leads to get one to show up and sign up. That's $10 cost per lead multiplied by the 5 leads, your cost per lead equals $50 in this scenario.
If it costs you $50 to acquire a new member and you sell them a $350 front-end offer, then you have an effective return on ad spend of 700% or 7x.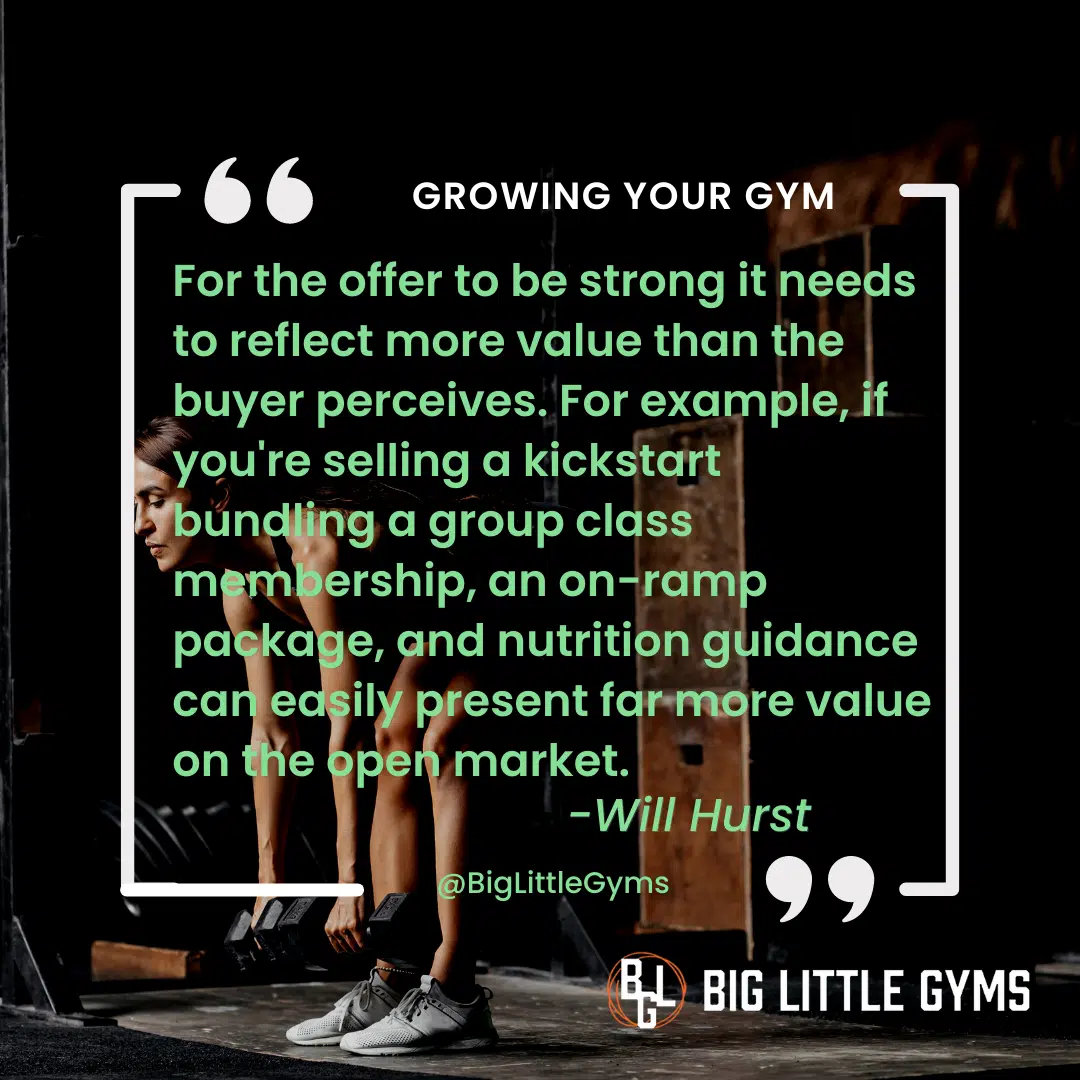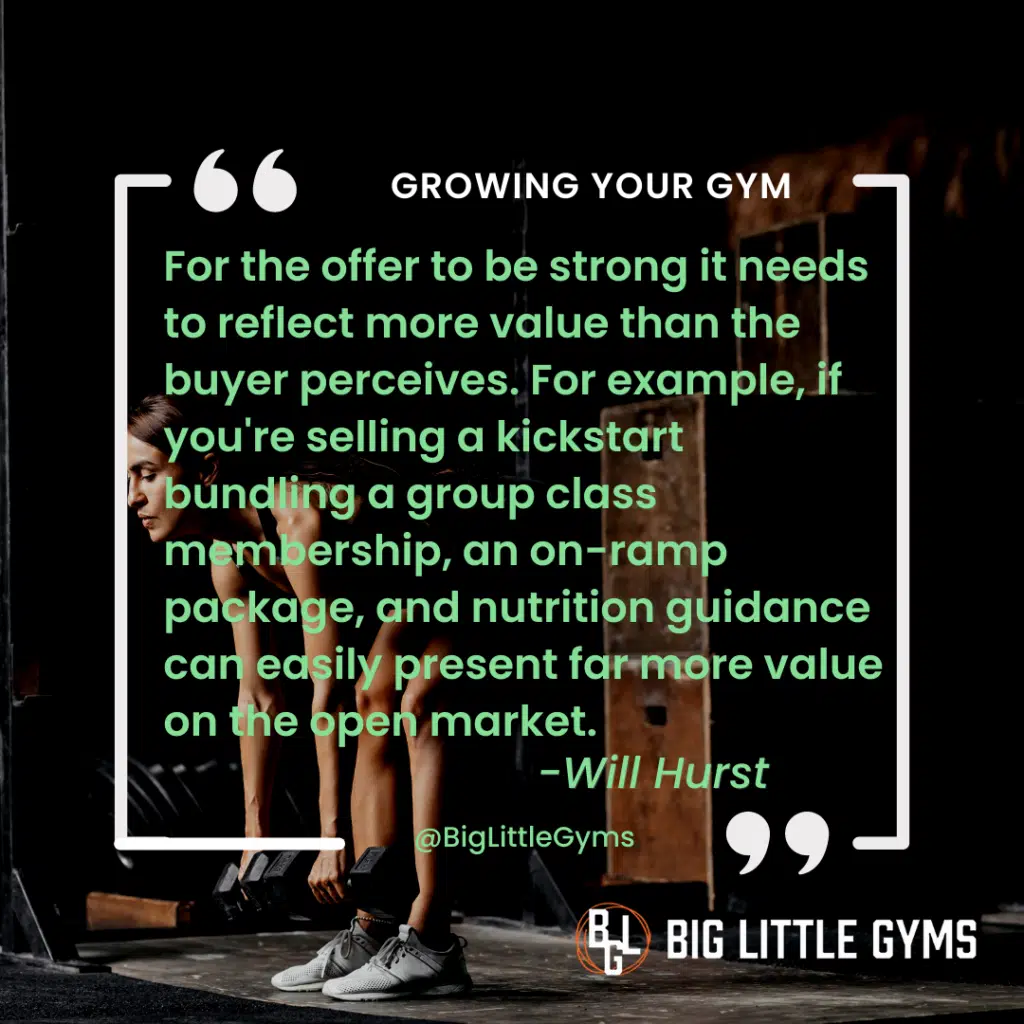 How To Assemble A Strong Offer To Acquire More Gym Members
For the offer to be strong it needs to reflect more value than the buyer perceives. For example, if you're selling a $350 kickstart bundling a group class membership, an on-ramp package, and nutrition guidance can easily present far more value on the open market.
We used to sell 30 new members a month a package like this by bundling our group class membership, with a 3-session semi-private on-ramp, and a nutrition plan from Erin's Atomic Nutrition System. It was an easy sale at $347 and it was easy to fulfill.
This offer allowed us to pay our staff really well, overdeliver for our new members, and make a great profit. And because it was not sold as a challenge, we kept about 90% of these clients for at least 18 months on average. We've since seen 100's of gyms run the same offer and get similar results.
(In our experience challenges often had much higher costs per acquisition, higher churn rates, and are way more work.)
The bottom line is that if you want to make money in the gym business, you need to have a strong offer and be able to market it effectively. If you can do those two things, you'll be well on your way to making more money than you ever thought possible.
The Market Has Shifted…
READ If You Want More Consistent Lead Flow & Automated Appointments For You & Your Gym! Imagine a "45-Day Intensive" where we…
✔️ Installed our proven done-for-you automated member acquisition funnel for more consistent lead flow into your business…
✔️ Provided access to our Pro Group Business Coaching Platform where you'll have access to done for you playbooks, SOP's, and done-for-you systems…
✔️ Have our in-house team help you get more traffic organically so you don't have to pay an agency thousands of dollars to get people in the door…
✔️ Helped you launch profitable Paid Ads Campaigns that generate automated booked appointments in your calendar…
✔️ Streamlined your member fulfillment process with a leveraged high ticket recurring offer…
✔️ Implemented our appointment-setting system to maximize lead conversions…
✔️ And applied our $10M sales process to increase your membership value and sales conversions rate…
AND We Guarantee… You'd have all your systems in place generating automated booked appointments on your calendar with 7 days and guaranteed you'd generate a positive ROl within 45 days…
💰OR we'll work with you for FREE until you do.
So if you're a…
✅ Brick-and-mortar fitness gym owner who sells or wants to grow a high-ticket group training program…
✅ CrossFit Affiliate Owner who wants to steadily grow your community month over month
✅ A functional fitness or bootcamp owner that wants to start stacking recurring memberships
✅ A martial arts school who wants more students at all hours of the day.
Then THIS is Your Call To Action To Take The Leap And Invest In Your Business.
Ready To Get Unstuck?
If you're an established gym with a base of members and you want to scale with more guidance, accountability and hands-on help, start today to build the business of your dreams.
We would love to chat with you about your business goals and see how we can help you get there. Ready to take your gym business to the next level? Fill out the form below to get started on your journey with BLG.