Hey Gym owners! In this video, I'm going to share some tips on how to drive traffic to your gym during slow months, like June and December. During these months, people are out of their routine, planning summer trips, or just coming off the school season ending which throws parents out of routine.
There three types of traffic you can leverage:
✅Traffic You Own
✅Traffic You Earn
✅Traffic You Buy
Traffic You Own
The traffic you own is the traffic you have direct control over. This includes an Email List, Subscribers/Members, and Social Media Followers. Because they've already given you permission by opting-in you can send targeted messages, exclusive offers, and engage with followers to drive traffic to your site. This is the best kind of traffic to leverage.
Examples of traffic you own include:
Email and SMS Text Contact List: If you've been collecting email addresses from your website visitors, customers, or leads, you can send targeted messages and promotions directly to their inboxes.
Existing Members: If you run a recurring subscription-based model like most gyms do, the members who actively engage with your content represent traffic you own. You can communicate with them, provide exclusive offers, and nurture the relationship.
Social Media Followers: While you don't entirely own your social media following, you have a degree of control over reaching and engaging with them. Utilize platforms like Facebook, Instagram, or LinkedIn to connect with your audience and drive traffic to your website.
Traffic You Earn
The traffic you earn is traffic generated organically through various efforts, such as creating valuable content, optimizing for top placement in local search, and building a strong online presence.
Example of traffic you earn include:
Search Engine Optimization (SEO): By optimizing your website's content and structure for search engines, you can attract organic traffic from people searching for relevant keywords. This traffic is earned by providing valuable information that search engines recognize and rank well.
Social Media Shares and Mentions: When people find your content valuable and share it on social media or mention your brand, you earn additional exposure and potential traffic. This can be achieved by consistently delivering high-quality content that resonates with your audience.
Strategic Partnerships and Collaborations: Collaborating with others in your network who have an overlapping service audience. This can be referring traffic from each other current customer list and audience. On the internet this can include guest posts to authoritative websites or collaborating with influencers in your area can help you tap into their existing audience and earn traffic. This strategy expands your reach and exposes your brand to new potential customers.
Traffic You Buy
This refers to leveraging paid advertising channels to drive targeted traffic to your website or landing pages.
Examples of traffic you buy include:
Pay-Per-Click (PPC) Advertising: Platforms like Google Ads and Bing Ads allow you to bid on specific keywords, and your ads are displayed to users searching for those keywords. You pay for each click that leads users to your website.
Social Media Advertising: Platforms such as Facebook Ads, Instagram Ads, and LinkedIn Ads offer highly targeted advertising options. You can create campaigns that reach specific demographics, interests, or behaviors, maximizing the chances of attracting relevant traffic.
Display Advertising: Purchasing ad space on relevant websites or through ad networks enables you to display your ads to a wider audience. Display ads can be banner ads, pop-ups, or native ads strategically placed on websites frequented by your target audience.
In Conclusion
Applying these principles to a local gym can significantly impact its success by driving more foot traffic, increasing brand awareness, and attracting potential customers. By leveraging different types of traffic, including owned traffic through email lists and member engagement, earned traffic through SEO and content optimization, and bought traffic through targeted advertising, you can create a comprehensive marketing approach.
Collaborating with influencers and local businesses, hosting community events, and implementing referral programs and member incentives further enhance your gym's visibility and engagement within the local community. By consistently implementing these strategies and tailoring them to your gym's unique strengths and target audience, you can generate increased awareness, attract more members, and foster long-term growth for your local gym.
Remember, success in driving traffic requires a combination of creativity, consistency, and adaptation to the evolving digital landscape. By staying true to your gym's values, providing valuable content, and actively engaging with the community, you can establish your gym as a go-to destination for fitness enthusiasts in your local area.
What To Do Next…
Want to get found more, drive more leads, and convert them into loyal members? Do you want to build a better business using powerful marketing, sales, and growth systems built for gyms like yours?
Meet The Growth Engine For Small Gyms That Think Big… Big Little Gyms
Big Little Gyms Is For Gym Owners who are looking to get unstuck and scale by doing the right things.
Achieve predictable growth, a strong tribe with profit, client results, and long-term success and happiness without the unsustainable gimmicks, like having to spend a ton of money on paid ads for offers for discounts. Where the focus is on implementation and collaboration (not long boring content).
Gym owners like John have seen big shifts in their business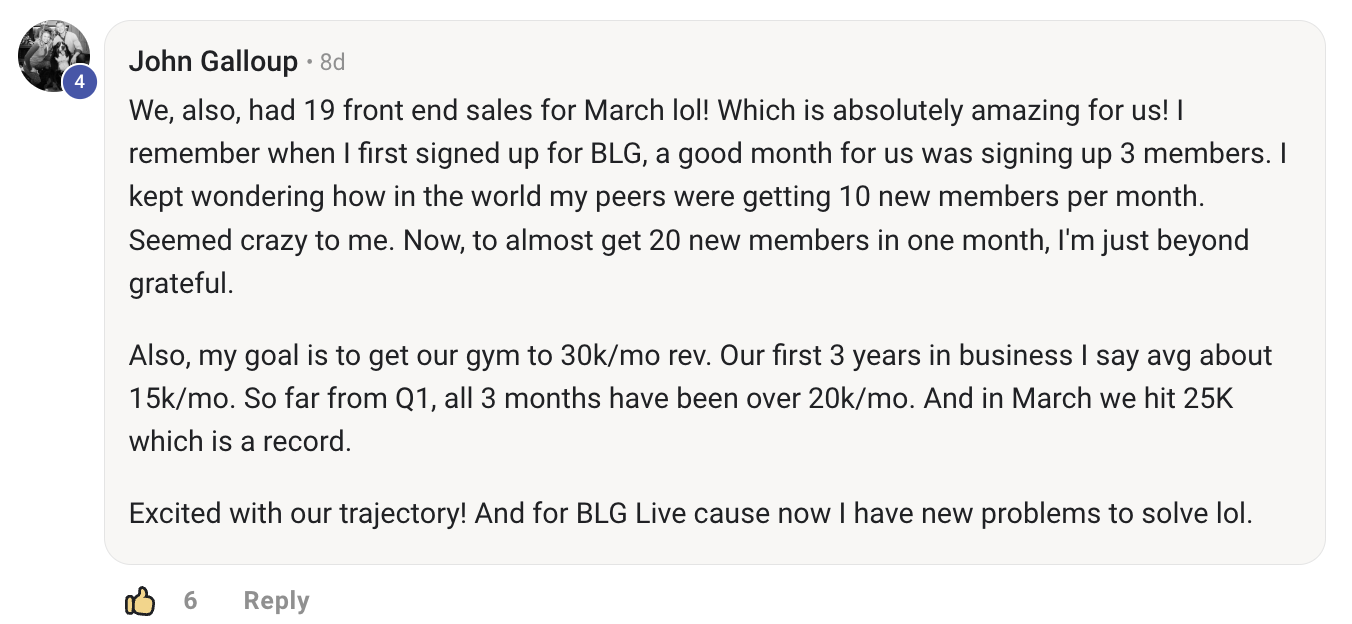 So if you're ready, let us guide you to the next level!
If you're tired of being on the self-employed treadmill and are ready to get to work. If you value systems, can follow clear action steps, and want to put pillars in place for a great business… then complete the form below with some basic info to get started.