In the article, I am going to show you how to use Facebook ads to get more members for your gym.
The Facebook ad platform is a powerful tool for any gym owner looking to expand their reach to their target audience and attract more members. But many gym owners don't know how to use them effectively, which can lead to wasted money and time. In this blog post, we will go over the basics of Facebook advertising for gyms and provide some tips on how to create successful campaigns.
Understanding What Makes A Facebook Ad Work Best
Just a few years ago, in 2018, a monkey seriously could have run ads on FB and gotten a 5x ROI on ads. But just like every other successful ad platform in history, demand increases while the supply of ad space stays the same.
This ultimately results in more competition and more saturation, making it harder for an armchair advertiser to have any type of success. And believe it or not, Facebook has no trouble taking your money, whether or not you know what you are doing (jokes!).
In 2022, believe it or not, FB ads still work, it's just a different ball game and the average gym owner will not have the bandwidth to build, test, and manage them to a degree where it's worth it.
The same old offers have saturated the market, and there is 4-5 times as many gyms in every market that are now using the platform.
Fundamentals First
Really what has happened is that the businesses lacking fundamentals in their marketing are being exposed while a couple of gyms in every market execute on the fundamentals and get the lion's share of the results. I know because I work with a lot of them!
Just a couple of years ago you could get away with having no concept of a marketing funnel in your gym. Nowadays that is exactly what is getting exposed and there is a major misunderstanding of what Facebook ads are and they're getting misused.
How Are Facebook Ads Best Used As A Marketing Strategy and 5 Stages Of A Gym's Conversion Funnel
Facebook ads are nothing more than a traffic source. A gyms marketing funnel has 5 stages that look like this:
Traffic – this is just people putting their eyeballs on your business
Lead generation – this is people taking an action, showing interest in taking the next step. Usually by submitting a form or opting into something.
Bookings – this is someone scheduling a visit to come to your gym to tour, trial, and/or fact find.
Shown Appointments – this is someone actually showing up for their booking
Sales – this is someone signing up for a membership and converting into a paying member
In the past, Facebook Ads worked so well that they could take someone from Traffic to sold without much effort. Conversion rates were really high because the competition was low and the audience wasn't being saturated with multiple of the same offers being running in their city. For that reason, most gym's didn't pay any attention to their funnel because it worked anyways.
Now, Facebook ads are actually just what they were always intended to be… a traffic source. And they actually work very well when the rest of the funnel is dialed in.
Build A Money Printing Machine For Your Gym
It's like this… If you know your funnel can convert:
15% of traffic into leads
then take 50% of those leads and get them books for intros
then take 75% of them to get them to show up
then close 90% of the people who show up.
…then you could confidently rely on converting 33.7% of every person who shows interest in joining your gym.
You would have a system for marketing that is very reliable and predictable, and all you would have to do to increase the number of new members you need is pour more traffic into the top of the funnel. It'd like a money printing machine.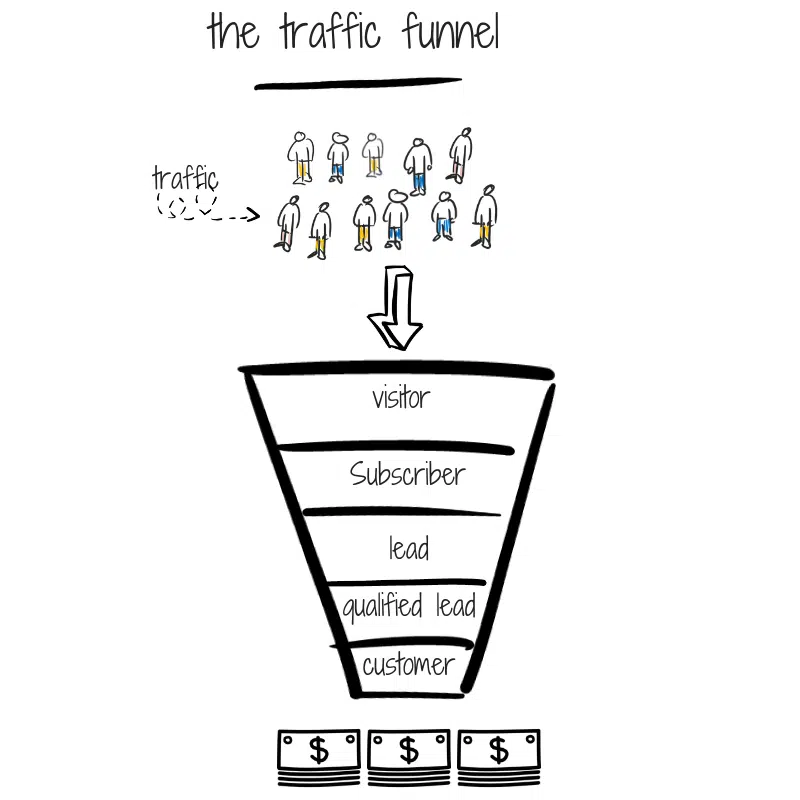 The interesting thing is when we fix most gym funnel they start converting more than enough organic traffic, usually 3 times as much and end up not needing to run ads anyways.
Why? Because most gyms that have been in business for 4+ years usually have a lot of traffic coming from organic sources like Google search, Google maps, Yelp, word of mouth, Facebook posts, Instagram, etc.
They just only see the leads they're getting but have no idea how many leads they are not getting as their funnel has leaks in it everywhere.
Anyways, you're here for some advice on Facebook Ads themselves so here you go!
How to Use Facebook Ads to Get More Members For Your Gym
Creating a successful Facebook ad campaign starts with understanding your audience. Who are you trying to reach? What are their interests? What kind of messaging will resonate with them? Once you have a good understanding of your target audience, you can start creating ads that speak to their needs.
One of the most important elements of any Facebook ad is the image. People are visual creatures, and an eye-catching image will help your ad stand out from the rest. Make sure to use high-quality images that accurately represent your gym and what it has to offer.
Your ad copy should be clear, concise, and persuasive. It should give people a reason to come to your gym, it should be an irresistible offer and anything else in the ad should serve to differentiate you because improvement offers have a very low rate of conversion.
Whatever your unique selling proposition may be, make sure to highlight it in your ad copy. Saying you are the best doesn't stand out because everyone sells that.
Finally, you'll need to choose an effective call to action. This is what will prompt people to take the next step and visit your gym. A strong call to action should be clear and direct, such as "Join Now!" or "Get a Free Trial!"
By following these tips, you can create Facebook ads that will help you attract more members to your gym. So what are you waiting for? Start creating your campaign today!
Additional tips:
– Test different ad types to see which perform best for your gym. Usually, we begin a campaign with 3 versions of an ad. Combining different media and ad creative to find which combination gets the best CPM (cost per 1,000 views), CPC (Cost-Per-Click), and CPA (Cost-Per-Result).
– Don't Use Too Much Targeting. Usually, we keep targeting simple and focus on the popular age and gender of the gym's membership within a 5-10 miles radius around the location.
-Have a good offer. The offer is everything, it needs to be irresistible, and eliminate all risk of it being a waste of time or money for the prospect.
-Have all leads going into a CRM, like Gymnetics, for list building, nurture, and follow-up so you can track leads through each stage of your funnel and tighten up your system.
– Keep track of your results so you can optimize your campaigns over time
– Don't be afraid to experiment and try new things! The world of Facebook advertising is always changing, so you need to be willing to change with it.
Focus On Your Genius And Get A Guide To Help You With The Rest Of Your Marketing Efforts
And last, the very best tip we can give: find a guide and have them give you a roadmap on this. Since it is so easy to spend and waste a lot of time and money on bad ads, it is a great investment to model something you know works.
And no, I don't recommend copying someone else's ads, because only about 10% of ads you see are successful and you can't see the backend setup and targeting anyways.
I recommend working with someone who has run a lot of ads in the current market conditions so they can give you a roadmap, show you how to set them up, give you the offers that are working, show you the math and give you the assets to put them together.
Great news, we are Big Little Gym have exactly that. We give all of our clients access to all of our ads training and they include done-for-you offers, with walkthru's that teach you how to set your ads up in the Facebook Ads Manager platform. Things like:
How to set up your Facebook ads account properly
How to set up your custom Facebook audiences
How to setup your gym Facebook ads campaign
How to set up traffic ads, awareness ads, lead ads, conversion ads, etc.
How to set up your Facebook Pixel
How to set your advertising budget and make the best use of it
Done for you offers
Done-for-you ad creative (text) and media (video ads and ad images)
How to reach your target audience and do detailed targeting of competitors, target market, and your potential members
Done-For-You landing page(s)
Done-For-You automation to follow up with each lead as they come in
These ads are currently tested, with a proven strategy, and running with gyms and fitness studios in every market and we give them to our clients at no additional cost, they will save you thousands a month in hiring an agency and in ad spend.
More importantly, they will save you time in running Facebook ads, generating leads and increasing your brand awareness locally.
The end results will be more gym members, better advertising efforts, less time wasted on digital advertising, better local awareness, and you having more time to focus on your thriving community of members.
A business owner's job is to work on their business by building and managing systems. Not being stuck in the business figuring out things that are available at your fingertips. So let's get started today!