As a CrossFit affiliate (or independent community) gym owner, you always have a lot going on. You're running and engaging a healthy community, but one of your biggest tasks is attracting new members to your gym, otherwise known as marketing.
For some parts of marketing – things like referral traffic from happy, current members, and educating prospects on what you offer – it might come without much effort. But there comes a time when you're ready to grow your gym proactively, you will want to expand upon what's working naturally to reach your local market, generate new leads, and lead them down your funnel.
The right tools and processes will help you grow your lead generation, get more people in the door, and grow your membership. This will enable you to see where your time and budget are best spent.
This is a guide to reviewing your gym marketing strategy, it will help you fine-tune your gym marketing campaigns for even better results. Let's get started.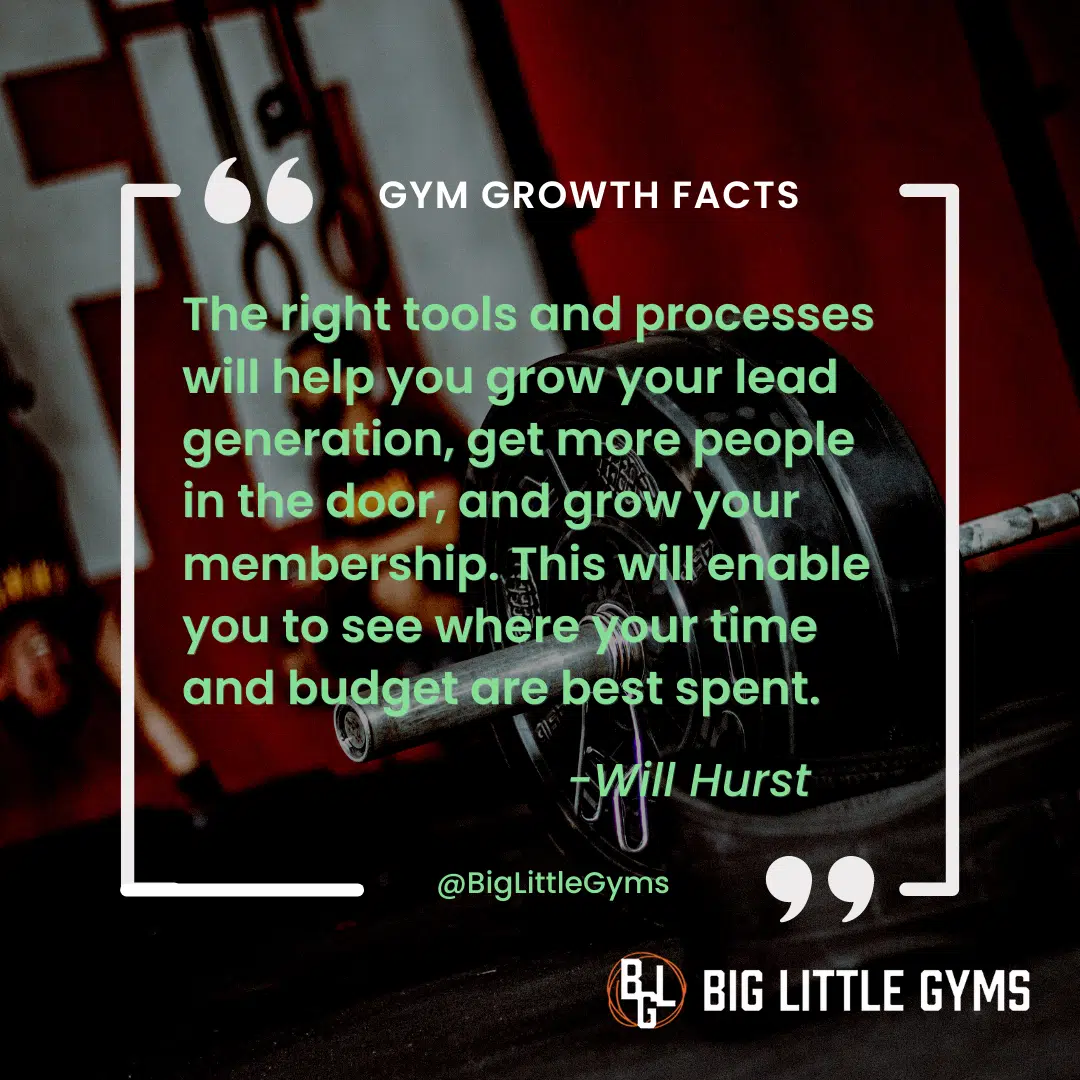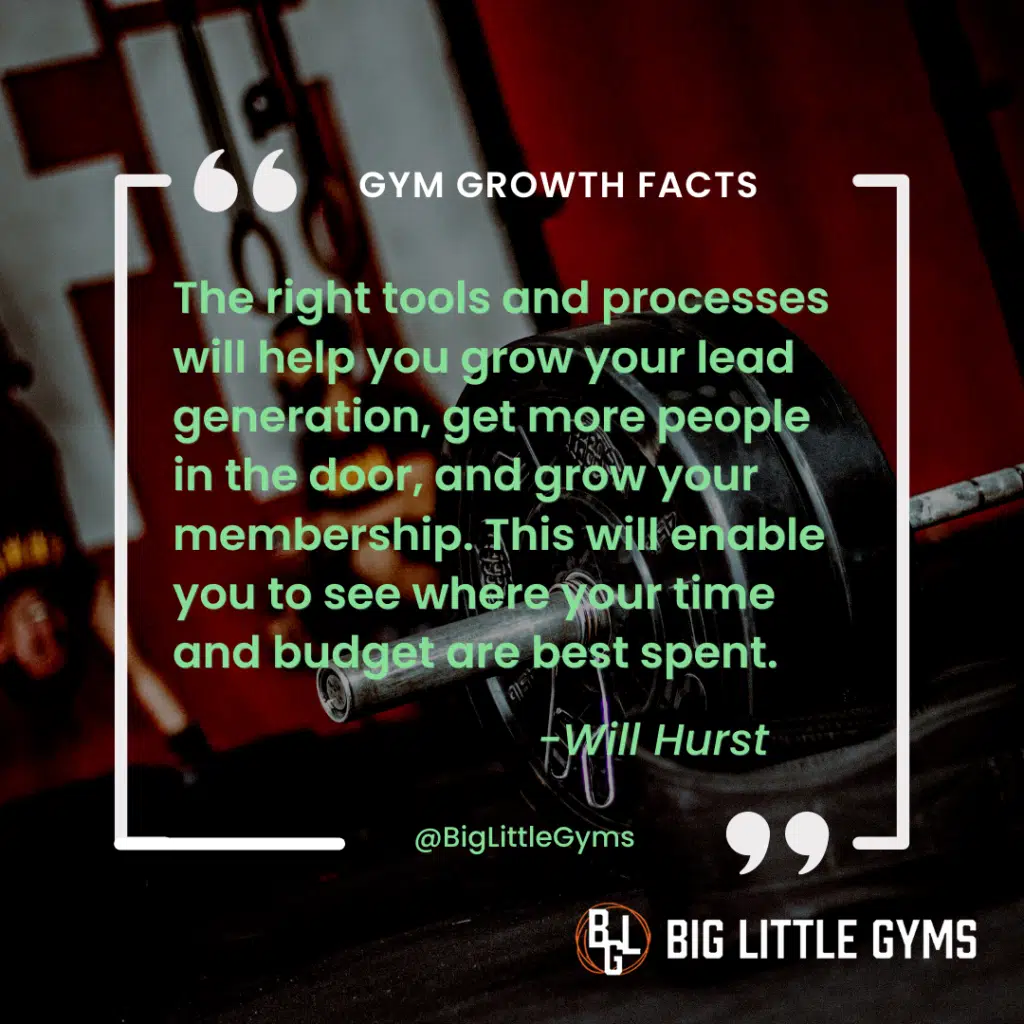 Table Of Contents
What Is CrossFit Gym Marketing?
You've built and opened your CrossFit gym, at first you likely got some strong word-of-mouth locally and those first few members brought in a few friends. But now, you need to start bringing some people in the door.
You've likely decided it's time to start doing some marketing.
Owning any small business requires you to get in front of your local audience, and there are a number of ways to do so, including organic traffic, word of mouth, and paid advertising.
Many established gyms we work with are often coming to us after years of ignoring doing any marketing. Usually, because word-of-mouth did so well for them in the early days, but as markets change and get more competitive they find themselves falling behind or see that churn is outpacing new memberships, resulting in them slowly going backward.
Further, many gym owners that opened 5 or more years ago are finding themselves overworked and underpaid. They didn't mind in the early part of their career as a gym owner, but now they're wanting to turn their passion project into an actual business.
Cash flow is important to gym businesses, without cash flow, the gym can't reinvest in new equipment, expand its space if needed, and most importantly can't provide a meaningful salary to the owner. Which if goes on too long, can result in burn out, and eventually, the business closing down.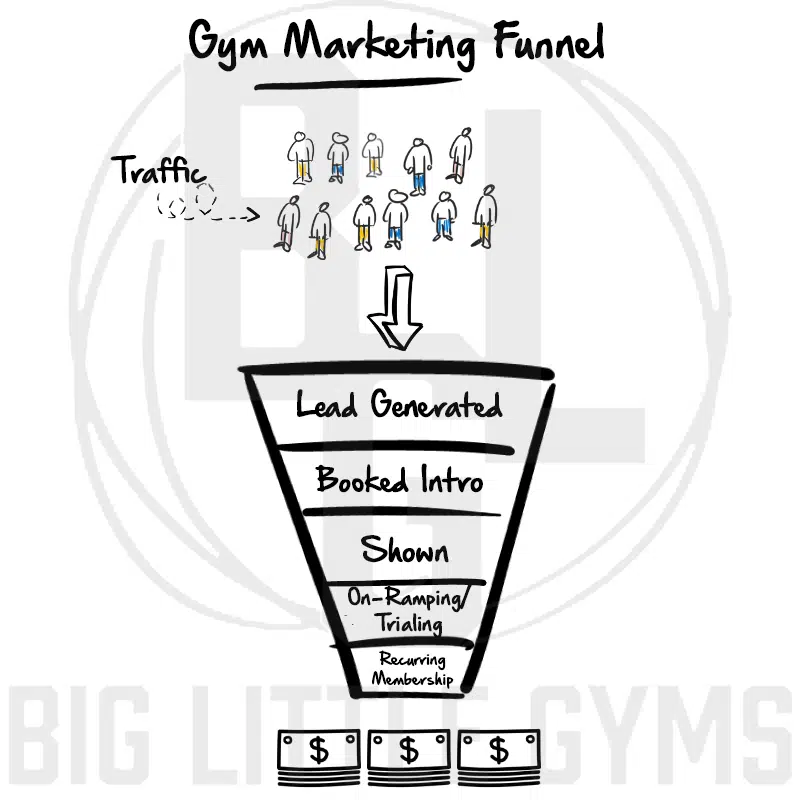 The 5 Stages of the CrossFit Gym Marketing Funnel
The marketing funnel for the independent group CrossFit Affiliate gym is made up of 5 parts:
Traffic – Eyeballs on your presence, with page visitors being the most measurable and valuable part of traffic.
Lead Generation – This is the ability to convert the above traffic into leads. People who have shown interest in reaching out. Most measurable by website and landing page opt-ins.
Bookings – People who have booked a time to visit your gym
Shows – The number of those bookings who have shown up and walked in the door.
Sold – The number of those shown bookings you convert to membership
If you're trying to grow your gym, it's important you track the KPIs (key performance indicators) for each of these stages to ensure you are maximizing every opportunity. A good CRM will guide your lead down this journey and report back where you can improve your process.
Ultimately, the important thing to take away from this is that getting people in your doors is a two-step process of getting traffic, and then lead generation. These two are symbiotic, in that, you can have traffic but if you don't have good lead generation systems then you will not see results, and vice-versa, if you have great lead generation systems, but no traffic, you will not see results.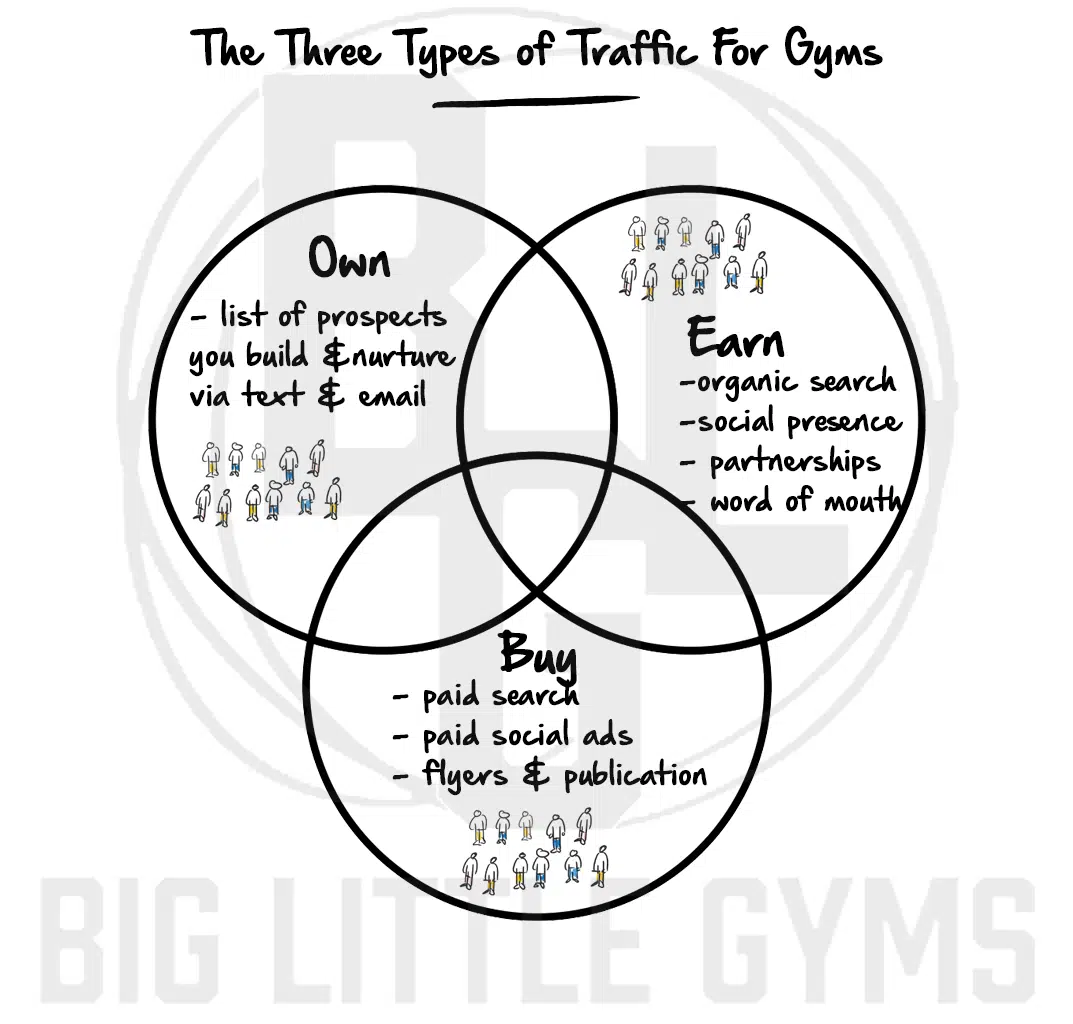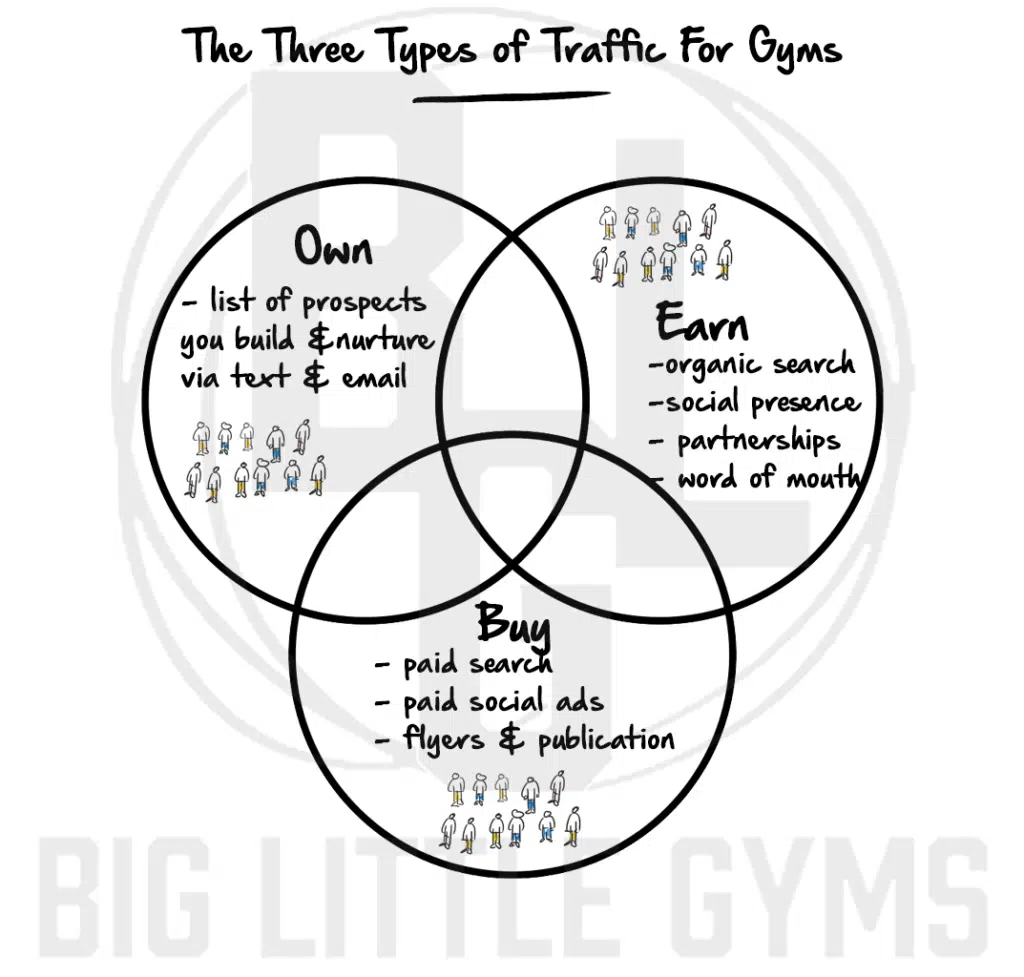 The 3 Types Of Traffic For CrossFit Gyms
For gyms, there are only 3 ways traffic is generated at the top of the funnel for the business to get leads. If you don't use one, or a combination, of these sources to send traffic into your funnel then your lead generation mechanism (typically your website), has no traffic to convert. Therefore, no leads can be generated.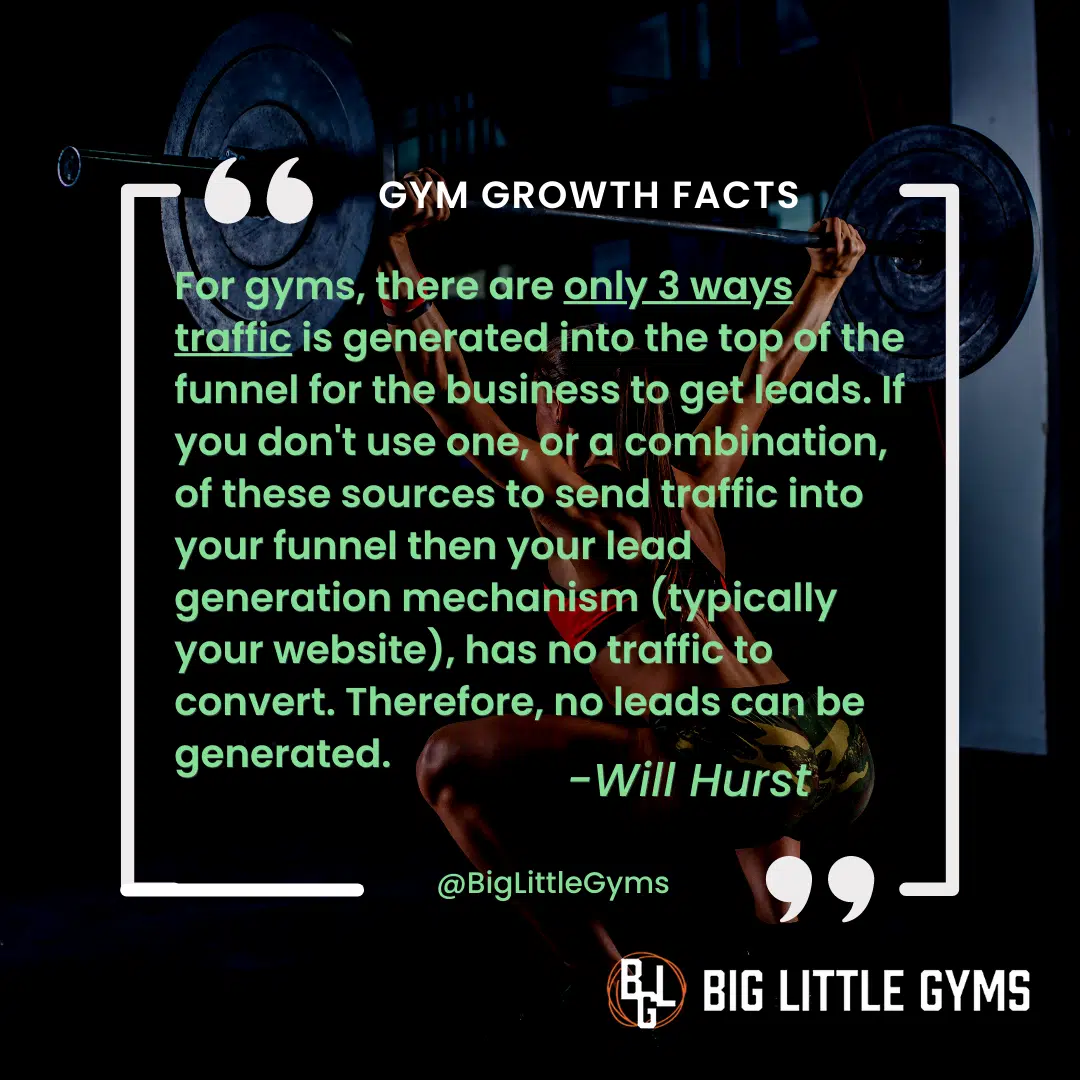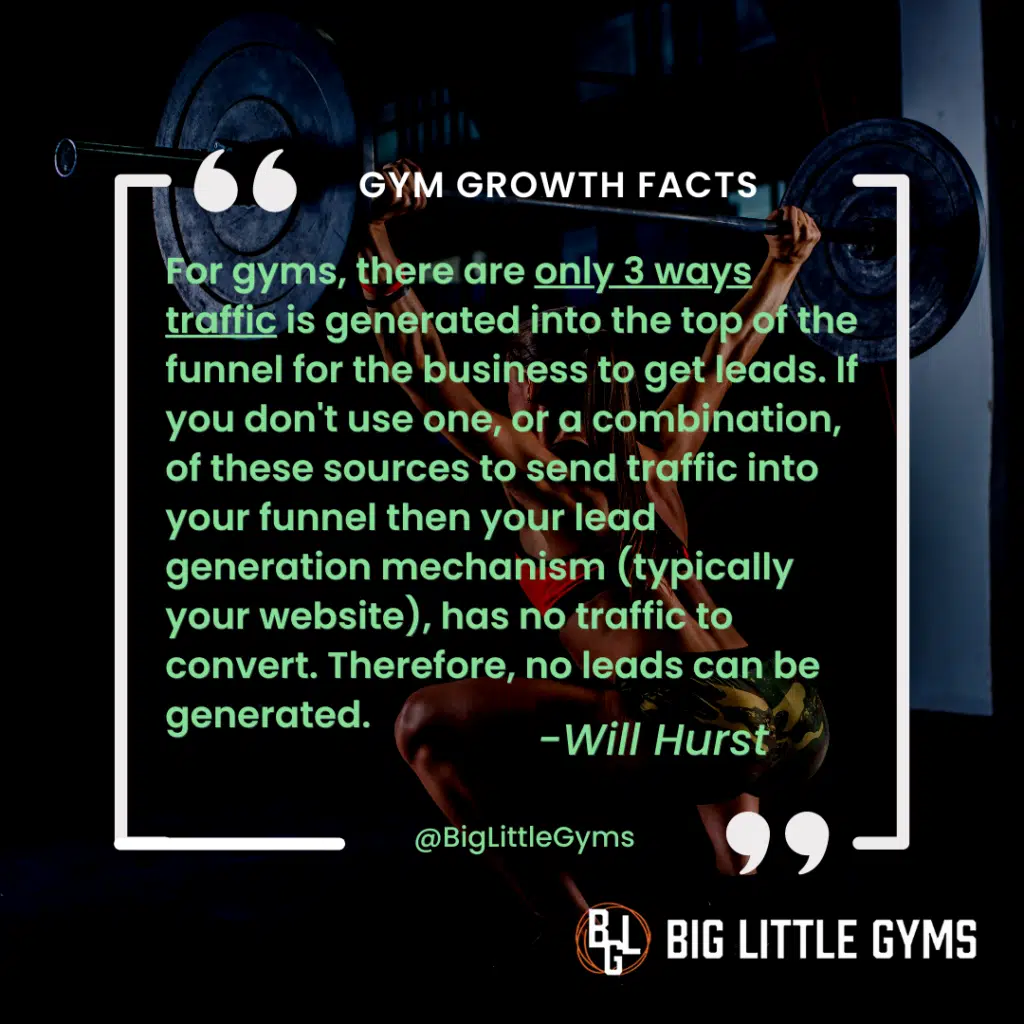 Traffic You Earn
This is no-cost traffic that you've gained access to either by working for it or by partnership. Referral marketing, otherwise known as work-of-mouth, is a type of traffic earned by impressing your customer and then telling their friends about you. Getting free traffic from social media by posting consistently and making the content valuable content is another type of earned traffic.
This most consistent form of earned traffic by far is that traffic you get from earning top ranking in local search results, as the quality of the traffic atop a popular search like "CrossFit Gym Near Me" on Google generates hundreds of leads per month in almost every market. Search traffic is typically built by having a website that has both on-page and off-page search engine optimization (SEO), in combination with strong social proof on your Google Business Profile listing from a higher volume of quality reviews on the platform.
Last, for the traffic you earn, partnerships with other local businesses that have a symbiotic relationship with your potential member is a great way to get traffic. With this kind of partnership you might be trading customer lists or exposure in both businesses, and no monetary arrangement is involved. This is could be a nutrition shop, a health food store, or another type of training that compliments your gym's methodology.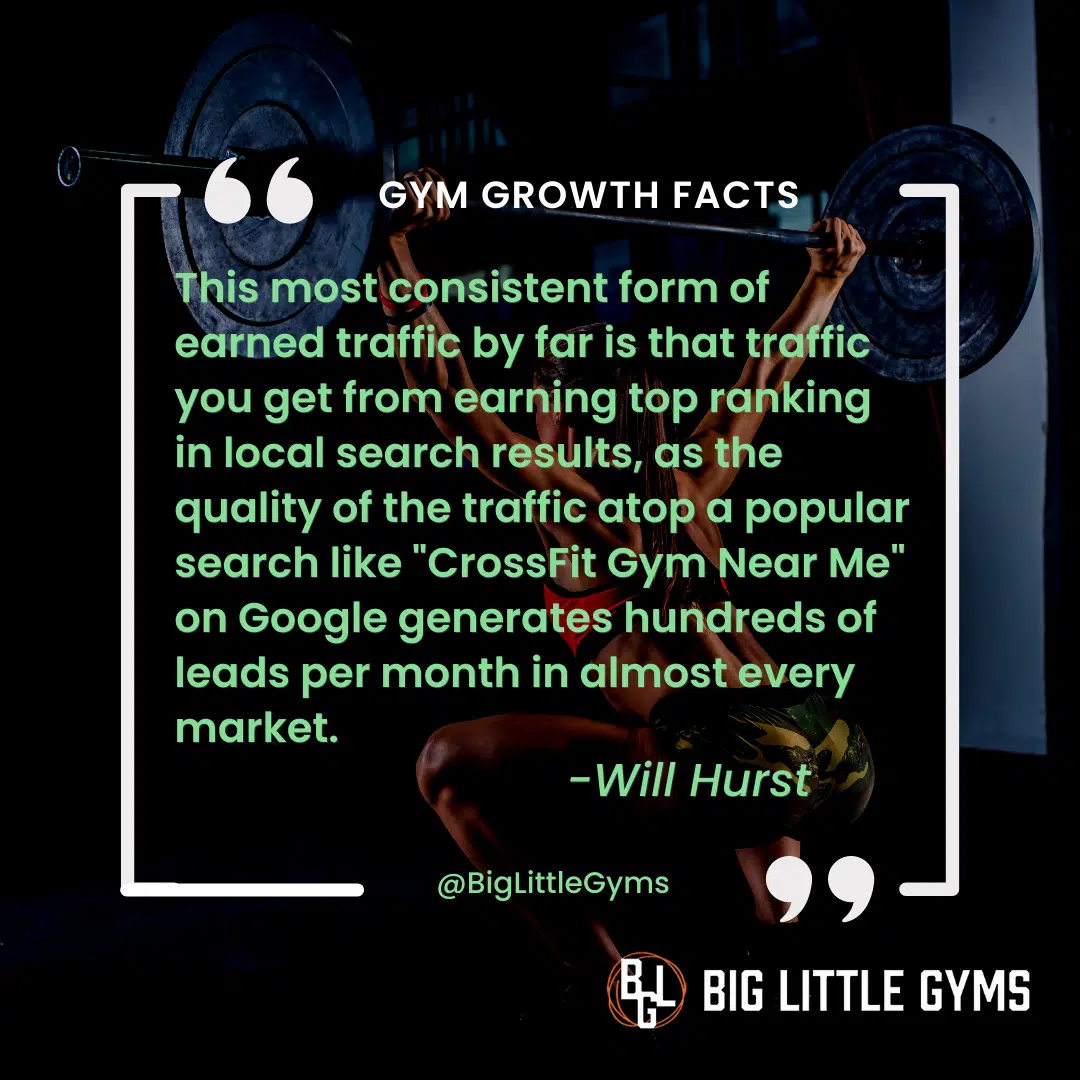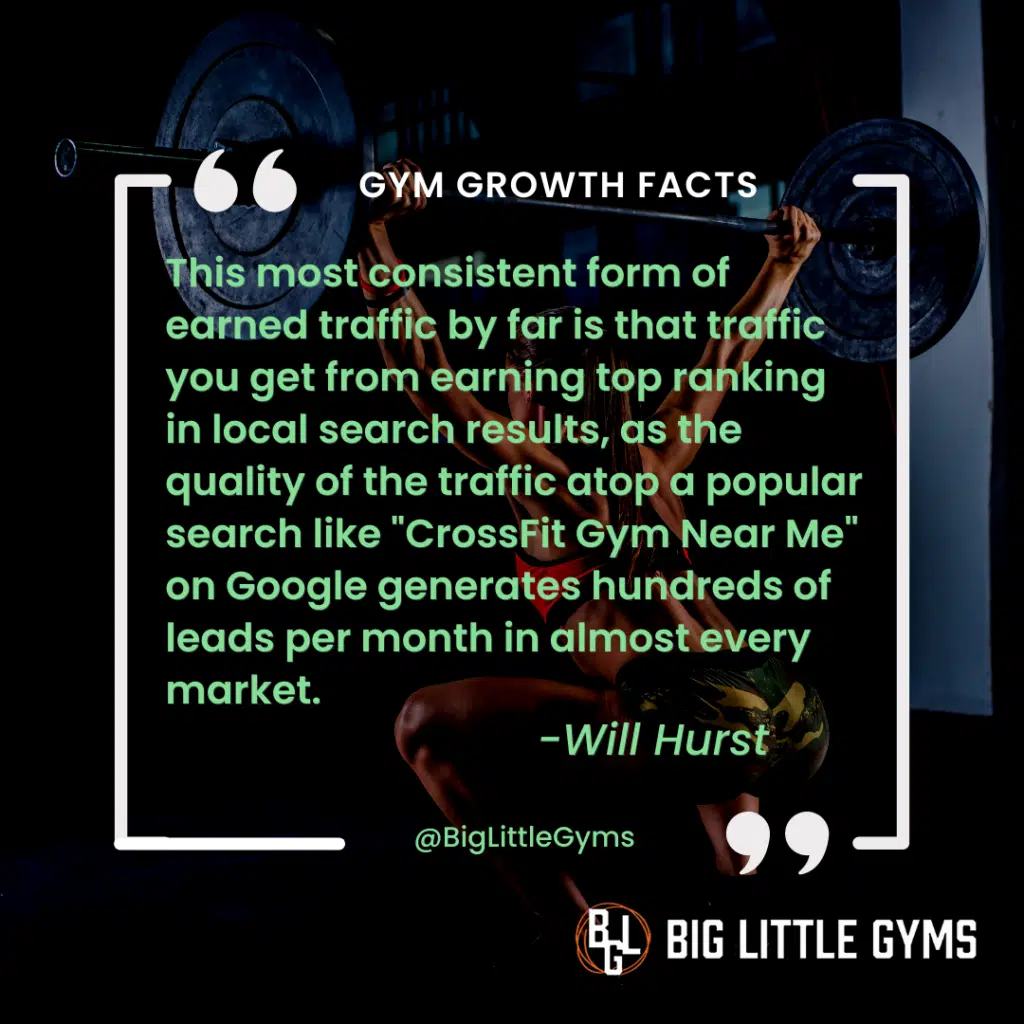 Traffic You Buy
The traffic you buy is visitors that come from paid sources. For new businesses or businesses where traffic isn't enough to support growth goals, this is typically the fastest way to get traffic. It makes sense that if you don't own traffic, and you have not yet earned traffic, you must buy it from somewhere.
In this situation, you're going wherever people who might be a good fit for your business are hanging out, in-person or digitally, and giving that place or platform money in exchange for them sending some of the traffic they own to your lead generation mechanism.
The downside of buying traffic is that the traffic quality is typically lower than what might come from owned or earned traffic, but it really depends on the source of traffic.
Types of paid traffic include Google Adwords, Facebook Ads, print advertising in newspapers, flyers, mailers, and any type of paid affiliations.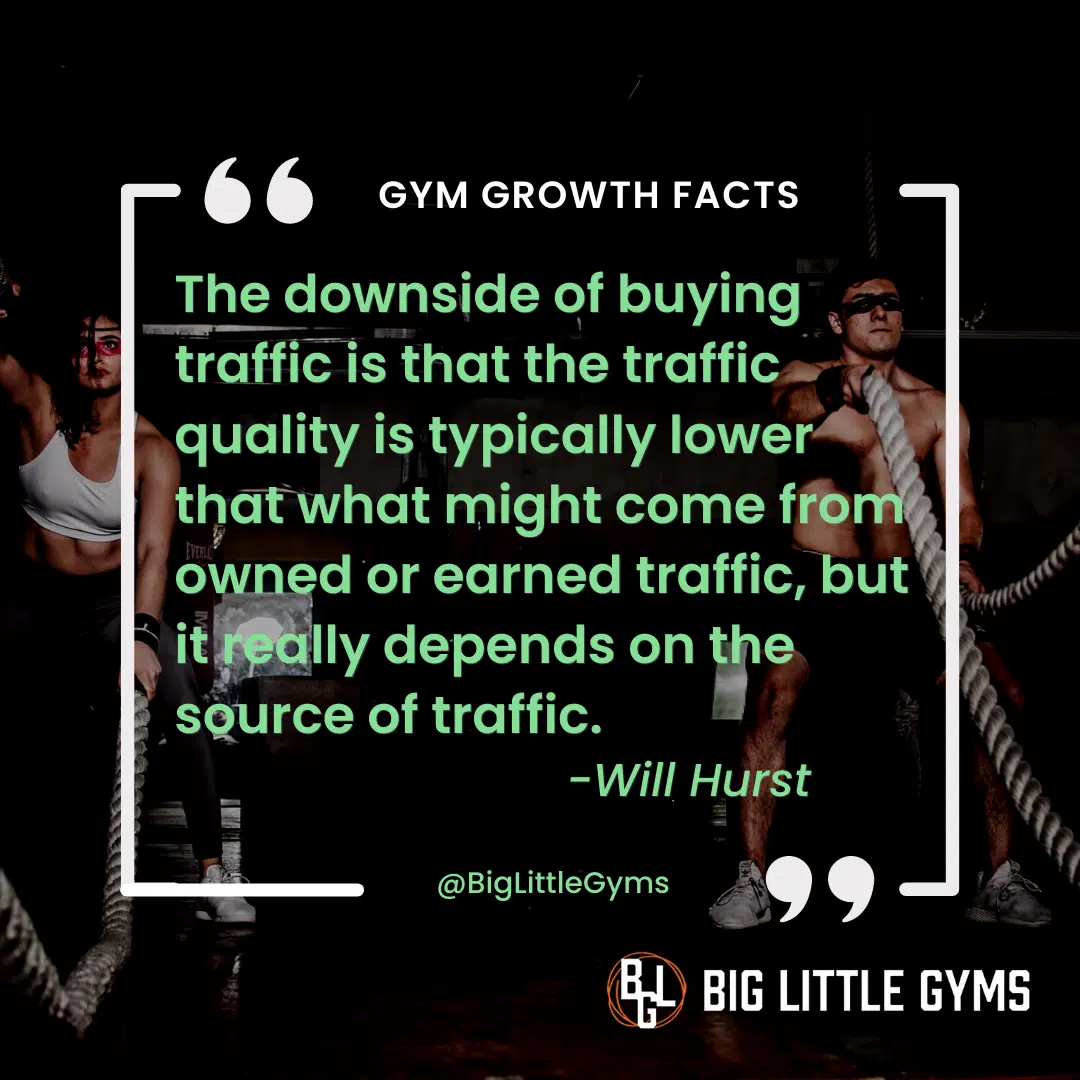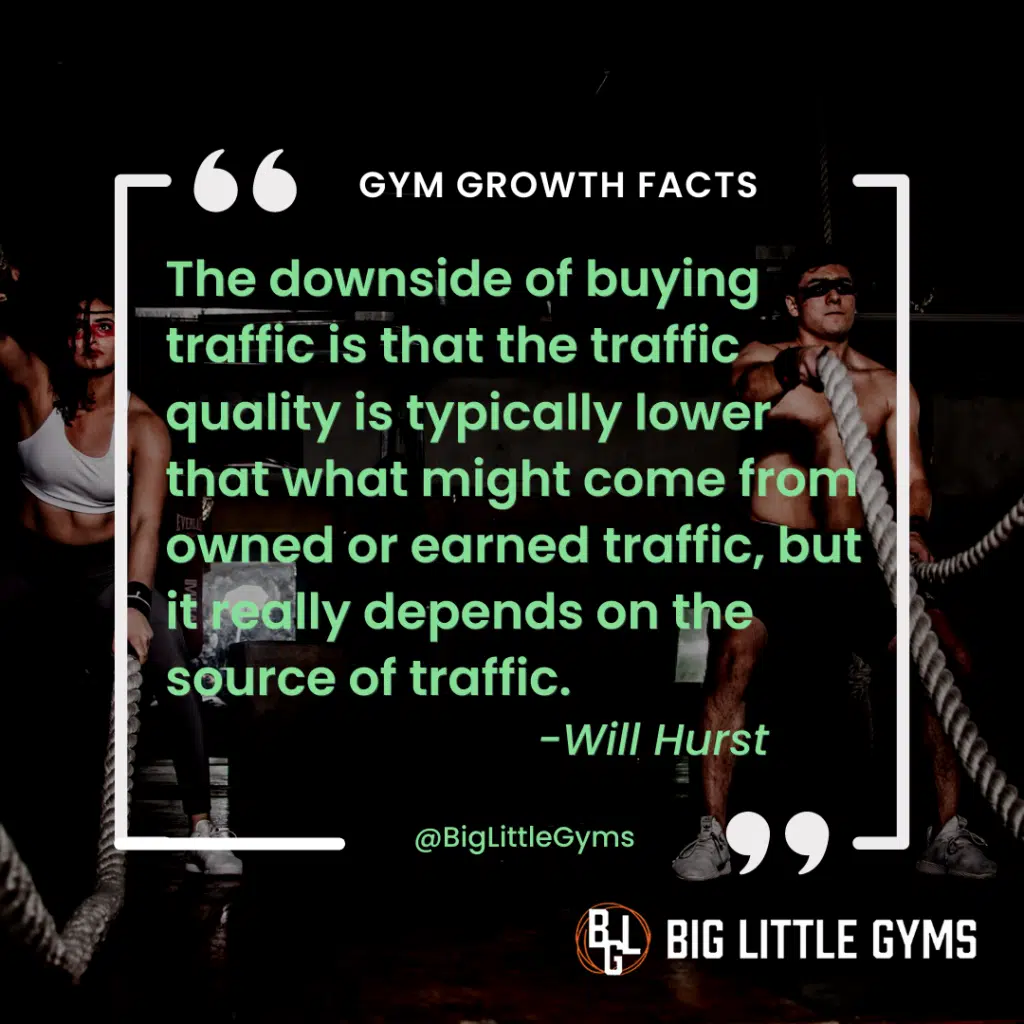 Traffic You Own
Traffic you own is the best form of traffic to have, this is traffic where you own and control the source of. For most businesses, this is your prospect list, which is essentially a list of names, phone numbers, email addresses, and maybe even physical addresses.
This allows you to nurture the prospect's relationship with you without having the restrictions of having to pay a platform to reach them. With this traffic, you can simply text message them, email them, send them physical mail, pick up the phone and call them.
In short, the best way to look at this type of traffic is that if you had the contact information for everyone within 10 miles of your gym, you'd never have to pay Facebook or Google to reach them, you can just simply send them an email or text.
As a gym is in business longer and longer it slowly builds a list of interested prospects from the other traffic channels, some join as members, but a higher percentage doesn't. Those that don't buy should go into nurture campaigns to build the relationship and occasionally get what are called "reactivation campaigns", which are occasional offers to reengage with you.
The best way to manage traffic you own is through lead nurture campaigns that educate, inform, and entertain the prospect. The goal is to build a relationship with prospects through trust that moves them closer and closer to the sale with every touch point.
If you don't nurture traffic that you own, it will go cold and can be hard to reactivate. This is very common amongst CrossFit Affiliates, most owners only focus on the buyers that come in and buy right away, and there is often there is no system in place to nurture and track prospect journeys through their sale process.
Interesting statistic, 80% of sales require 5 follow-up calls after the meeting. 44% of salespeople give up after 1 follow-up. Typically when a prospect doesn't sign up, it doesn't mean they didn't buy. 87% of the time they became a member somewhere else.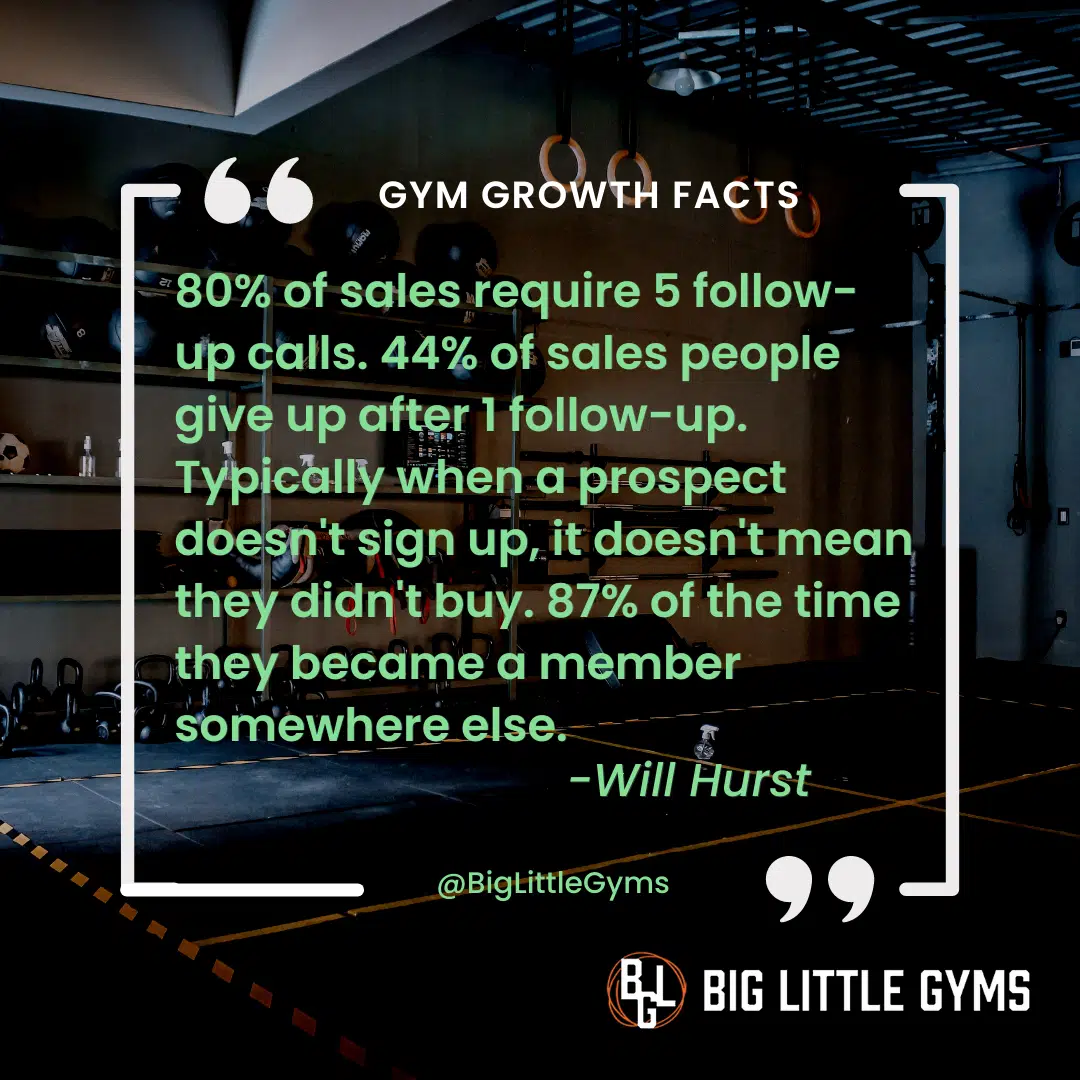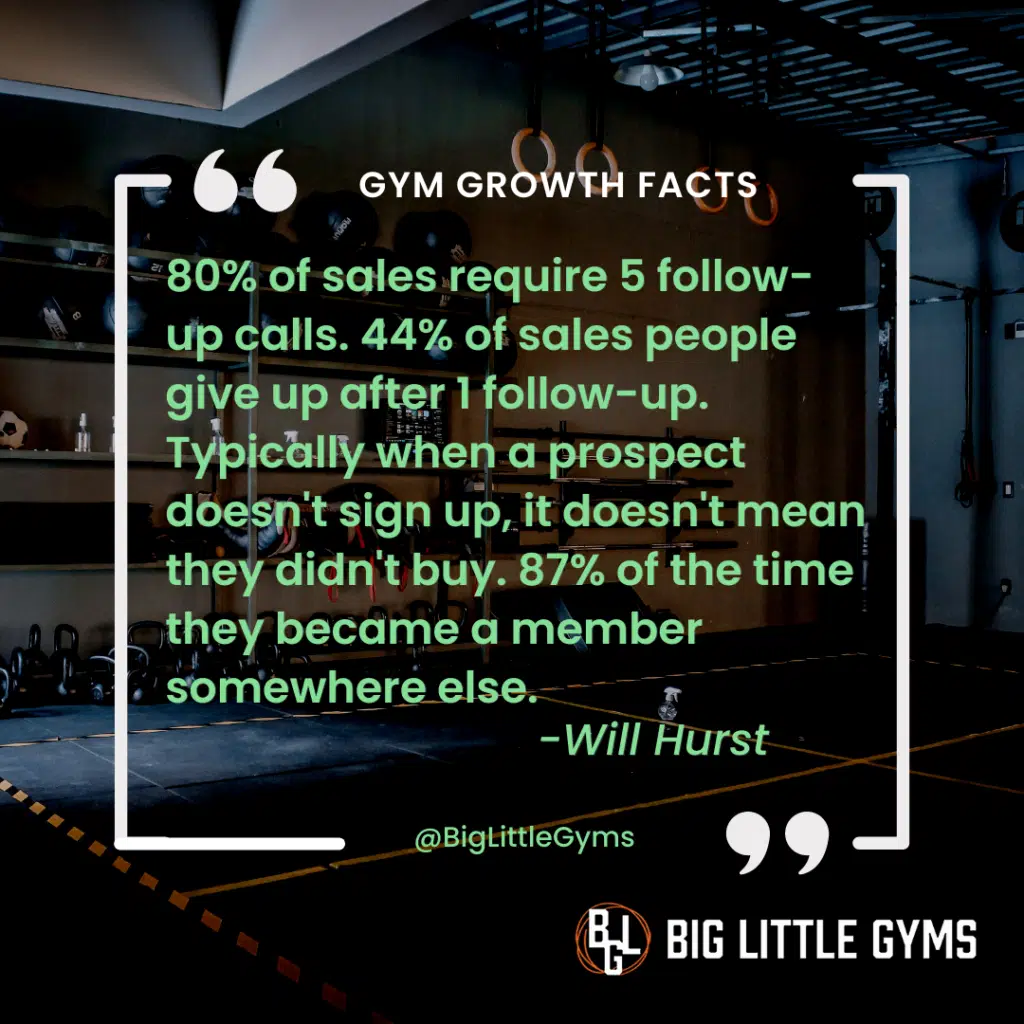 CrossFit Gym Marketing Basics: Tools and Tech
There are some tools now available for CrossFit Affiliate owners that are now essential, versus just being a nice-to-have widget. With them, marketing comes far more predictable and consistent, but without them, makes it nearly impossible to keep up with should you decide to crank up the traffic.
Really, the rate at which these tools help to convert traffic makes them a no-brainer since they increase conversion rates at 2-3x the cost.
Lead Generating Website
Most gyms we speak to already have a website. When we review most CrossFit gym websites, what we find is either a very dated website that looks like something that probably converted well 5 years ago, or a website that is more of a brochure.
Do you know what most people do when handed a brochure? They toss it into the next trash can they walk past, unfortunately.
In today's age, our website is used for one thing and one thing only: lead generation.
People are finding our businesses on search engines, apps, and social media. They typically see enough about us there to take interest and all the traffic from these platforms funnel through to our website.
The website needs to be focused on them taking the next step, which is to get started. Not asking them to email us, or call us but instead opting-in through lead generation forms built into the site the right way to go directly into your CRM.
It also needs to be optimized for the local search traffic on platforms like Google, in most markets, there are tens of thousands of searches per month for terms like "gym near me", even in small cities. Showing up as the top result in a search like this will generate enough traffic for the average CrossFit Affiliate gym to grow month over month.
It needs to be fast and efficient and move as quickly as the visitor is thinking. And these days, that is VERY fast. People click through websites at a rate or 3x faster than they did just 5 years ago, so if your site is clunky in how it guides them through inquiring you will be turning people off.
A good example that we've been able to measure is the feedback we've gotten from the websites we've built for our customer's gyms.
We've found a lot of established CrossFit Gyms that have been in business 4+ years already have a lot of traffic and page visitors but the page conversion rates are super low. So when we replace the website with one built for lead generation, we see new membership go way up.
When we build websites for gyms as part of our system we typically see a 200-300% increase in lead generation, this is without any increase in actual traffic. We just remove the friction and make the prospect feel like this is a good decision to move forward in getting started.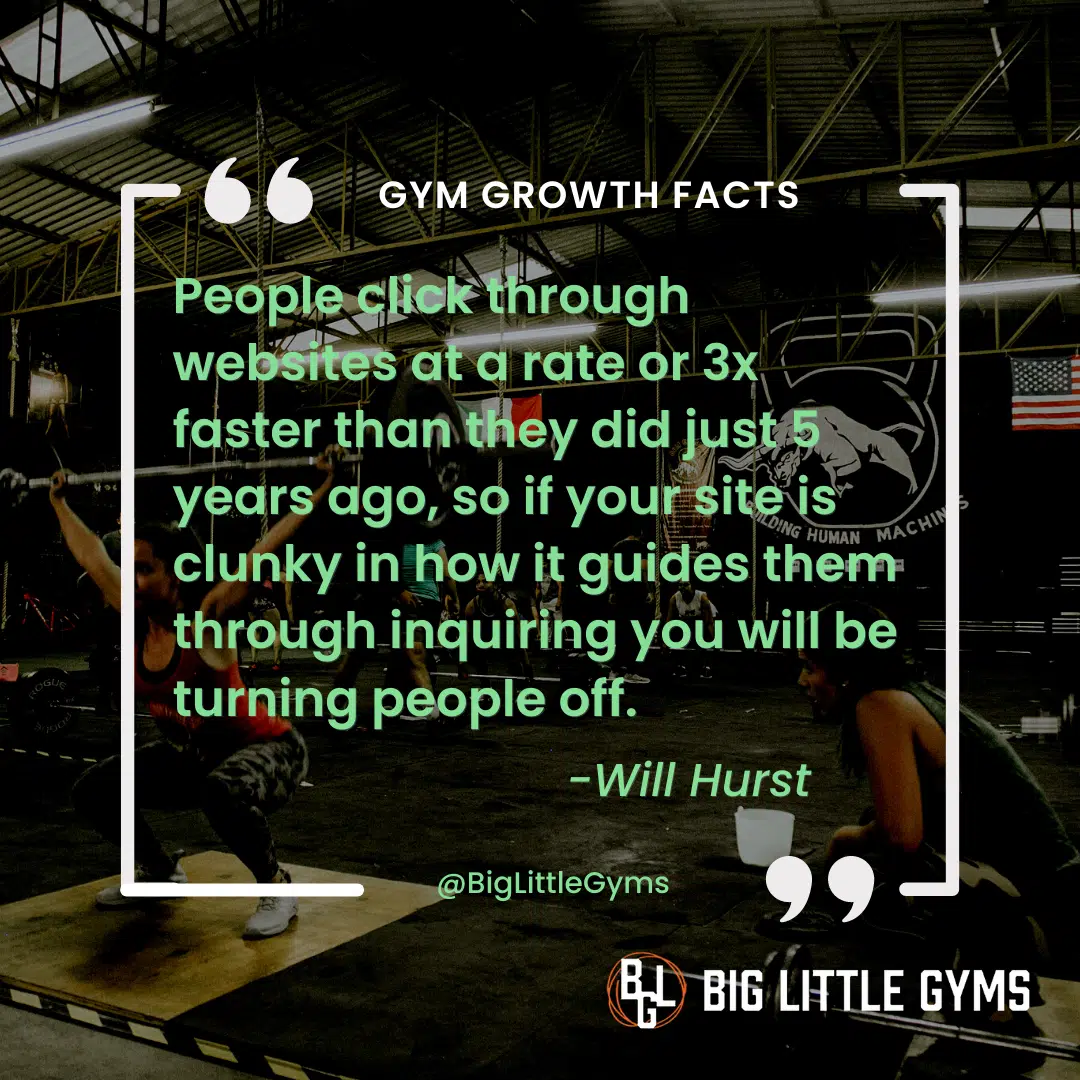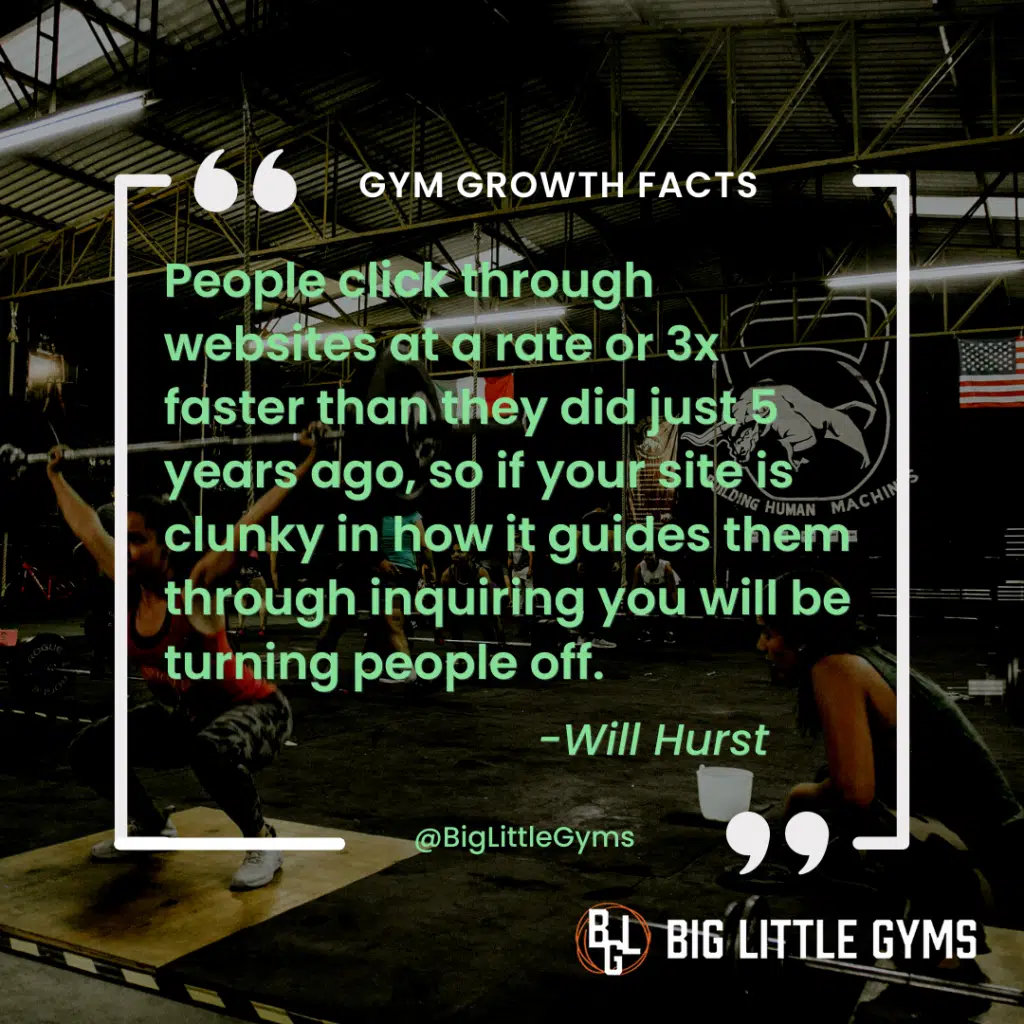 CRM System
A CRM for gyms is a "customer relationship management" platform, this is software that more than 50% of small businesses in the U.S. now have.
A CRM integrates with your website's lead generation forms to capture contact information from the interested prospect and automates follow-up down a high-converting prospect journey. This keeps your leads and members organized in one place and manages communications with them via two-way text, email, and inbound and outboard calls. A CRM is critical for any business where sales and marketing success is vital.
For gyms, a CRM is different than your gym management software. Most gym management software is designed more for class management and billing but lacks the tools you need to optimize the prospective member's journey into your gym. CRMs aren't designed to help with gym operations like class management or payroll reporting.
CRMs are focused on:
Having a dashboard to track data for traffic (page visitors), lead generation, bookings, show rate, and closed sales.
Marketing automation to make sure every lead and new customer journey is optimized
Landing Pages for lead generation, referral funnels, and other one-off program lead and interest capture.
Helping owners work smarter, not harder, and managing the entire business more efficiently.
A well-built CRM will result in a gym converting more traffic into leads, getting more leads booked for a visit, getting more of those visitors to show up for their booked appointment, and then taking them through a new member indoctrination campaign once you convert them to a member.
Gymnetics, built by Big Little Gyms, is an example of a complete CRM that can do all of this, and we've built it to integrate with most Gym Management platforms like Wodify, PushPress, Pike13, and most others. A complete CRM can also save you a lot of money, Gymnetics for example replaces nearly $1,000 a month of software at a fraction of the cost.
Just a couple of years ago, you would have needed a funnel builder like Clickfunnels, an SMS messaging tool like Skipio, a form builder, an email platform like Mailchimp, an automation tool like active campaign, and an integrator like Zapier to connect it all. Modern CRM tools like Gymnetics, can perform all these functions better in one place and we've pre-built it with all the campaigns a CrossFit Affiliate would need to market, follow up, sell, and onboard new members at a high level.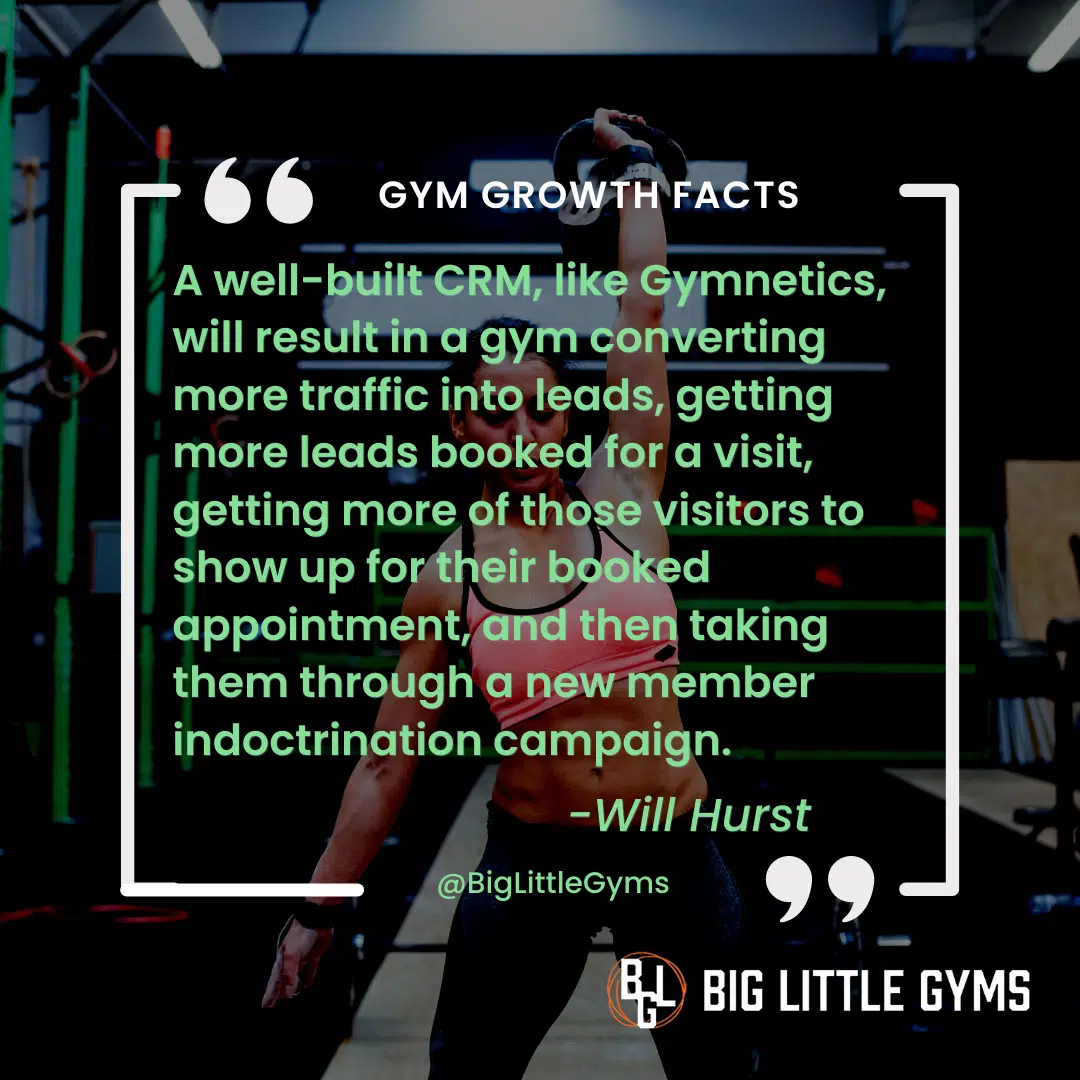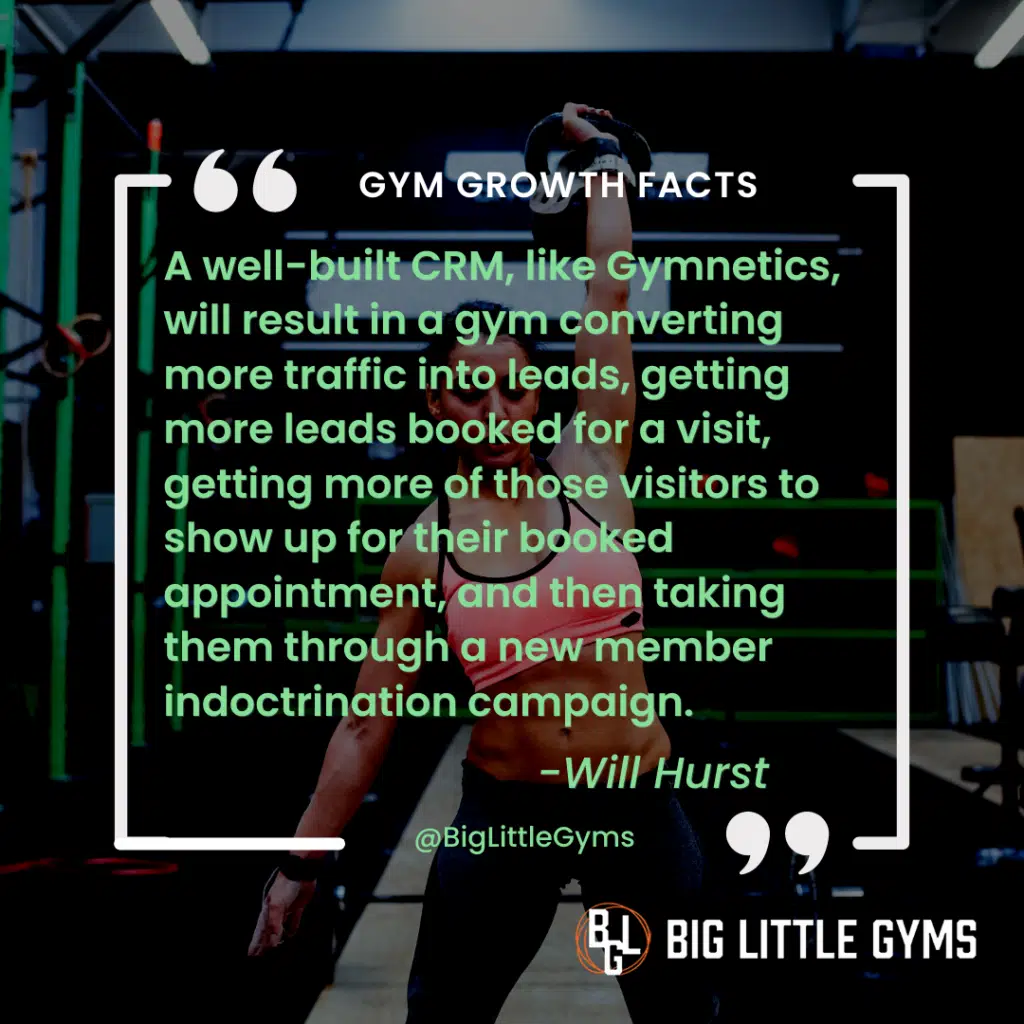 Marketing Calendar
A gym marketing calendar is a tool that can help you plan and execute your marketing strategy. It can help you keep track of important dates and events, as well as ensure that your marketing efforts are aligned with your business goals. A gym marketing calendar can also be a useful tool for tracking results and measuring success.
Your gym's marketing calendar can be annual but at a very minimum, you should plan at least one-quarter in advance. Especially with the seasonally of the gym business, you should be planning where to put your energy in different seasons as some times of the year are better to focus on retention and ascension, and other times are better to drive in new traffic to grow membership base.
Where gym owners often fail in their marketing, is by failing to plan. As a result, they end up running campaigns reactively during the wrong seasons. The worse time to be aggressive with your outbound marketing campaigns is during the seasons when the market is moving away from your offering. It's far better to market proactively when the market is moving towards you.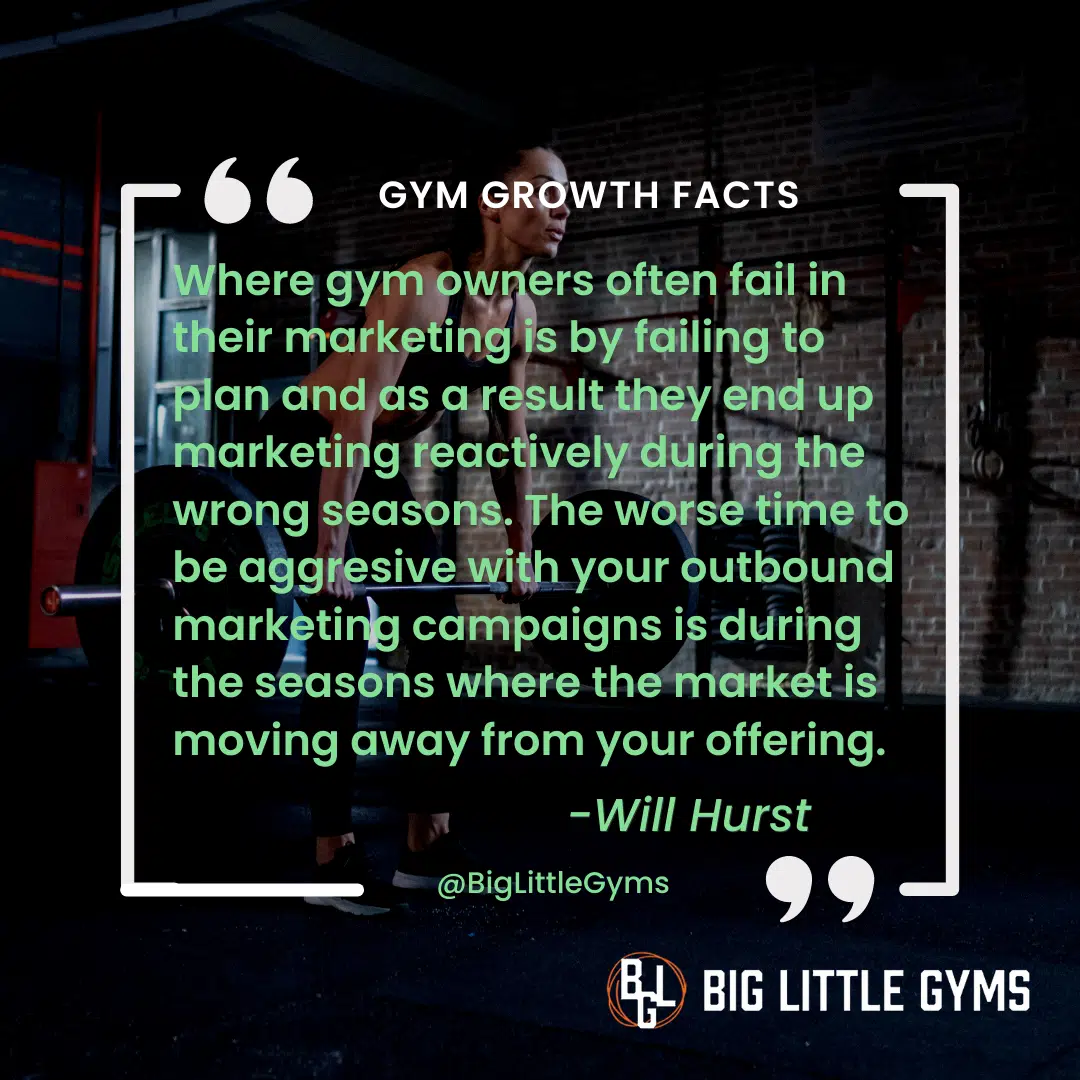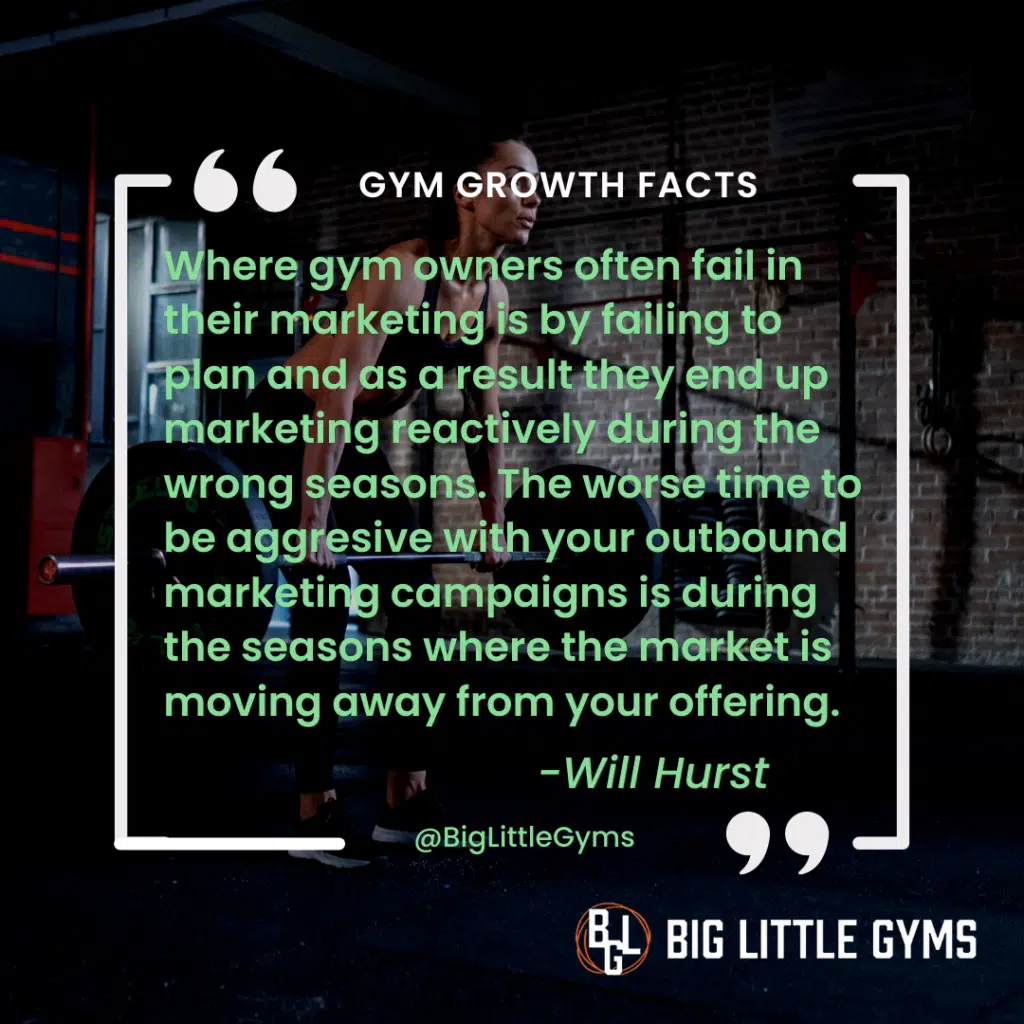 Google Analytics
Google Analytics is a web traffic visitor data tracking tool that generates reports to help business owners and marketers make decisions based on data. With it, you can view information about your visitors such as their demographics, location, and age.
You can also see which keyword searches people are using to land on your website, and what content and pages on your website are the most popular or generate the most leads. Google Analytics provides a lot of data that you can use to do more of what's working and see the traffic trends in your market.
At Big Little Gyms, we lean heavily on Google Analytics to optimize our client's websites and search traffic to see where to improve local ranking, track page conversion rates, and see what's working so we can do more of it. We set up a new Google Analytics account for all of our clients so they too can see the information and get reports every month on their traffic.
Getting Ready To Market Your CrossFit Gym
If you're getting ready to crank up the marketing systems for your gym like a business owner, it's important that you get all the right pieces in place before cranking up the traffic.
Dialing In Your Lead Generating Mechanism
For gyms, your core lead-generating mechanism is your website, even if you get traffic on social media, you'll find that most of the traffic ends up funneling through your website. So your website must be dialed in for maximal lead generation and fully integrated with your CRM to ensure follow-up is consistent and timely.
We replace dated websites for CrossFit Gyms all the time, even home-built ones the owners are really proud of, and they are always impressed at the improvements in lead generation after just a couple of days and how organized they feel having everything come through the Gymnetics app on their phone. It allows them to focus on just having conversations and getting visitors in the door for intros.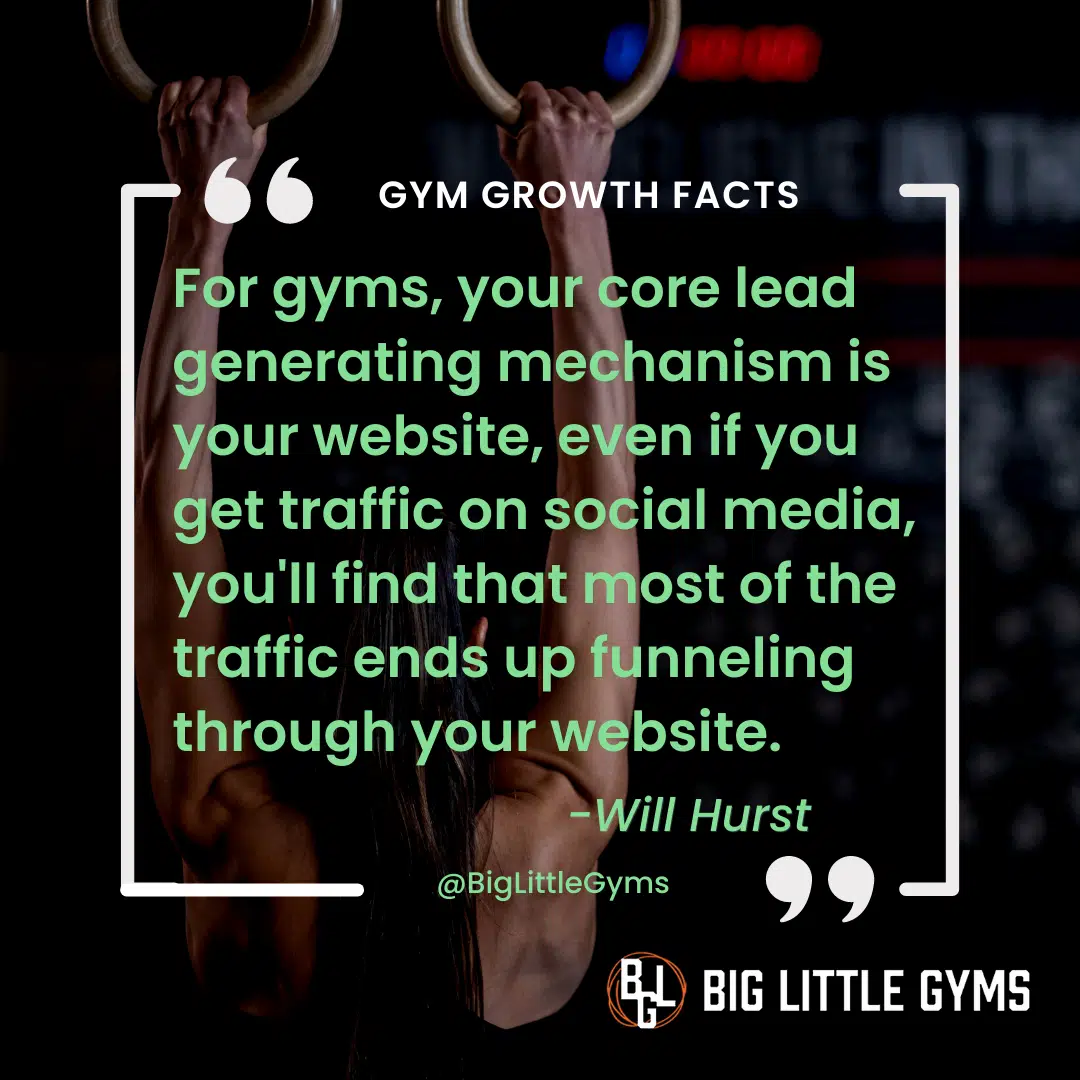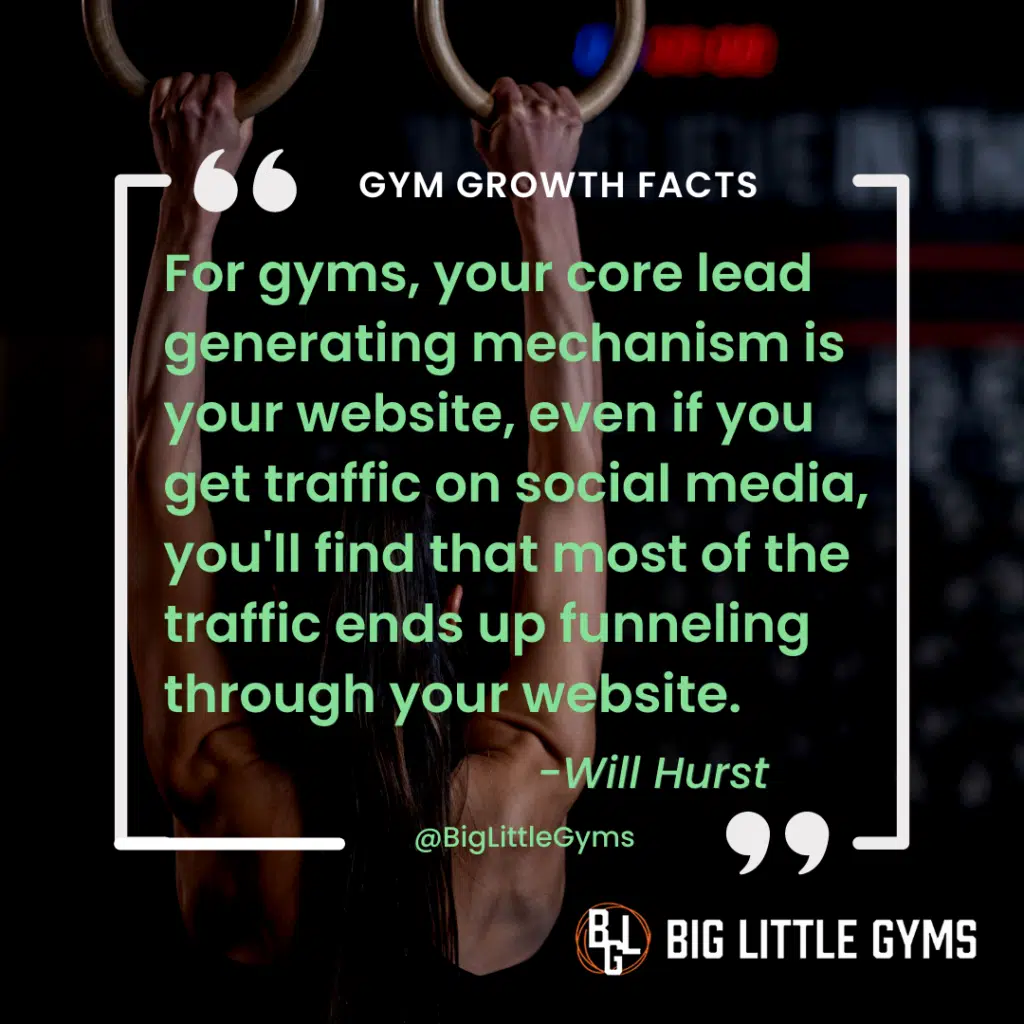 Know Your Audiences Pain Points
In marketing your message is everything and it must differentiate you. Features, benefits, and jargon do not sell near as well as being an advocate for solving your prospect's pain points. Most people don't know what "good" looks like so they often don't trust messages where you try to justify why you're better than the competition. What they care about is who knows the problem the best and if they know how to solve it.
For most CrossFit Gyms there are 3 core pain points that they solve better than any other group fitness provider:
Working out alone – People get bored working out alone and much prefer working out in a social setting. Having people at the gym that they like makes them more excited to go every day.
Not knowing what to do – Most people don't follow a program and have no clue what they're doing at the gym, this insecurity often makes them feel like maybe it's a waste of time, so they don't go.
Wasting time – the most valuable thing people have is time, busy professionals and moms and dads, highly value every hour of their day.
It is the emotional hook and appeal of solving these pain points that get people to pay attention and stay on your page a little longer. It's talking about them, more than talking about yourself. People do not buy features and benefits, they buy solutions to problems.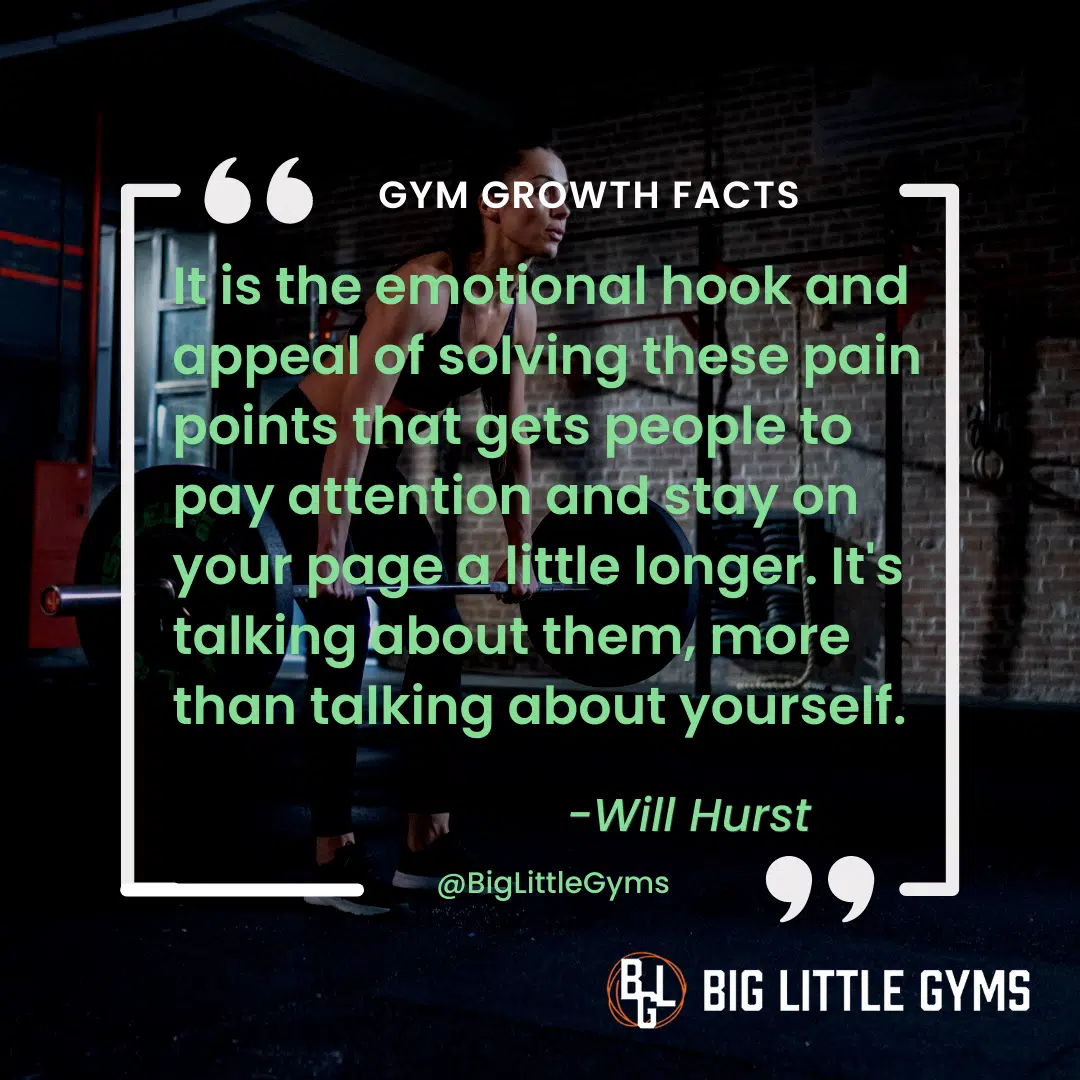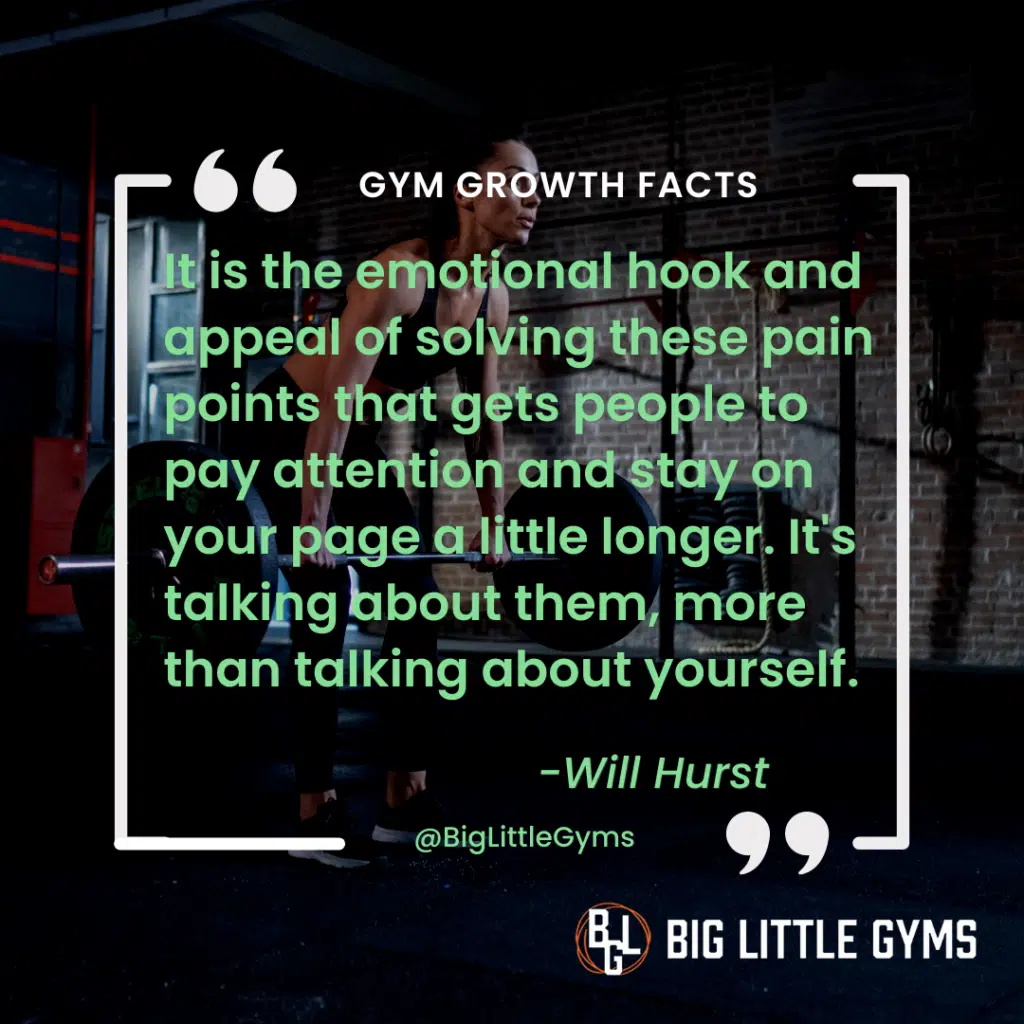 Search Engine Optimization (SEO)
The goal of search engine optimization is to rank highly when locals type in search terms for the services you provide like "gym near me" or "CrossFit gym in X city". The leads that come off of these search terms are some of the highest quality, highest converting leads you'll get so it's ideal to rank well.
A recent 2022 study showed that ranking first on the first page of search results earns approximately 29% of users' clicks. The second-page results get 16%, the third-page rankings earn just 11% of clicks, and the percentages drop rapidly from there. Therefore, it is essential to put effort into ranking high on search engines if you want people to get more of the local share of leads looking for a new gym.
Further, search engines like Google have made huge strides in what's called their "local map pack". These search results now show up above the general keyword search results and funnel directly into your website and scheduler. This is all controlled by the Google Business Profile (formally Google My Business)
We've found that our gyms that rank #1 in local map pack results show up in 30,000 to 60,000 search results per month, and can generate 100+ leads per month organically. These gyms don't have to run ads because they're getting enough traffic organically to grow month over month.
Increasing your map pack ranking is a result of optimizing your profile, getting a large number of reviews and social proof, the credibility, and authority built into your website, backlinks from credible sources siting you a solid provider, as well as the backend technical optimization of your gym's website so the map pack can crawl your site and rank it at the top.
When we build gym websites we deploy the on-page SEO techniques above and improve them updated monthly. We also have done-for-you playbooks to optimize the Google Business Profile to ensure our clients get the above results.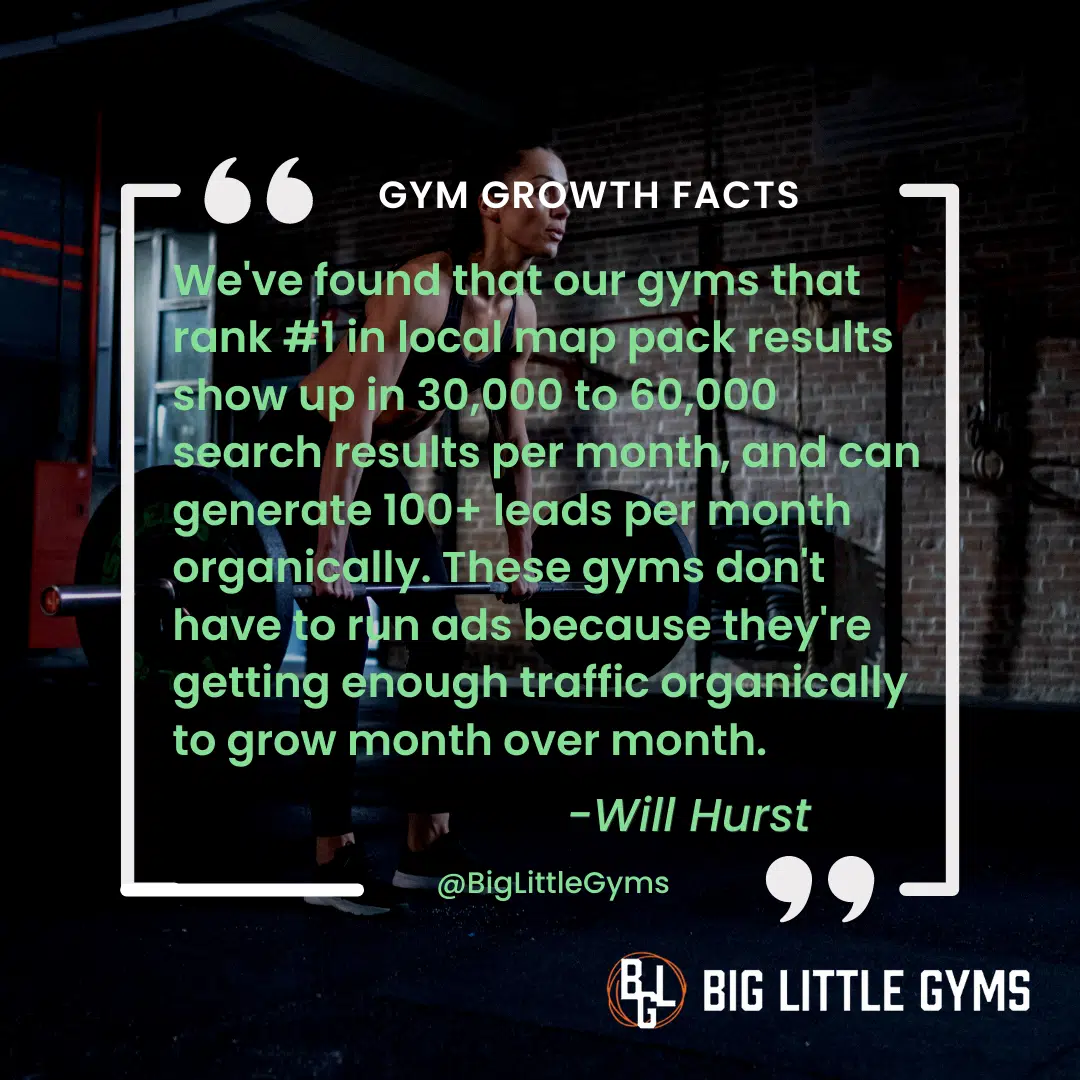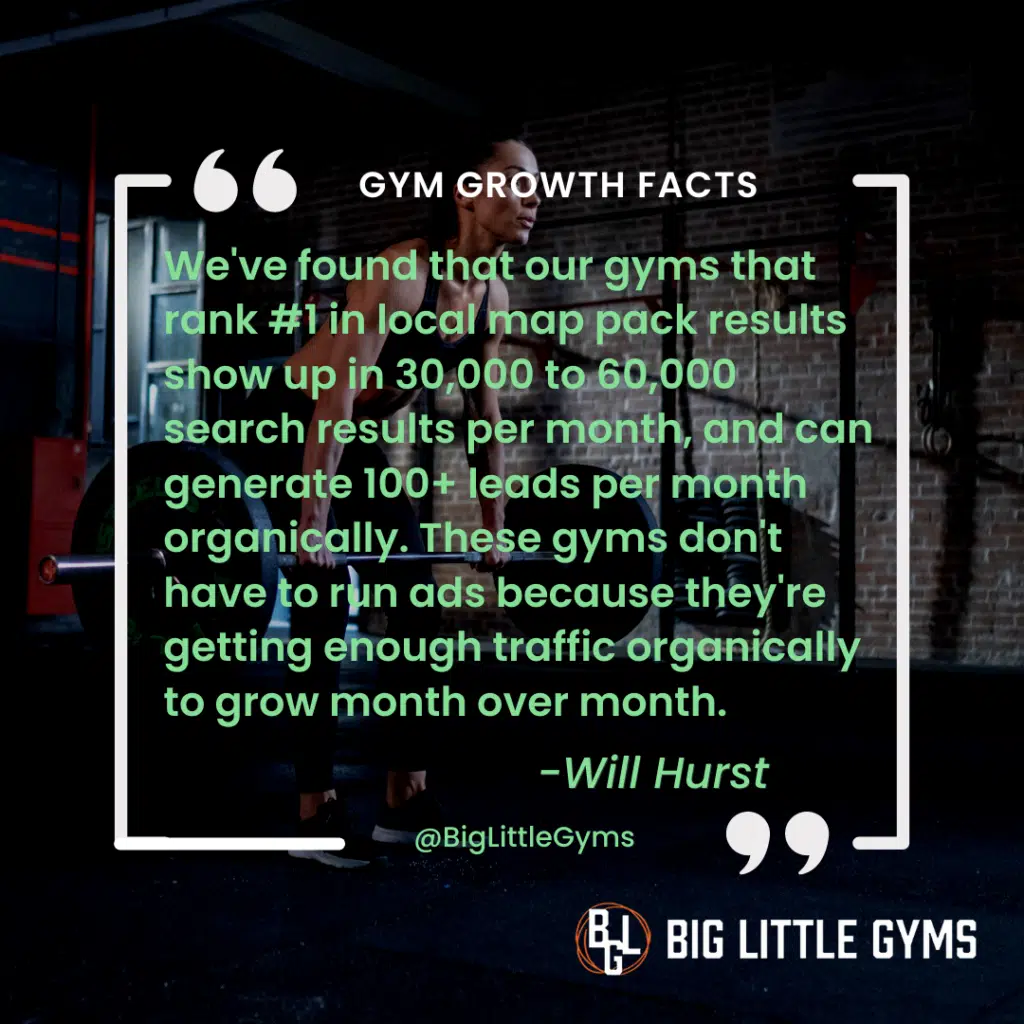 Running Your Marketing: Doing It Yourself, Getting a System, Or Hire An Agency?
When it comes to growing your gym and putting marketing in place, you need to ask yourself 3 questions:
What is your goal?
What is your time frame?
What is your budget?
Depending on your answers here it will determine what the best value is for you.
Doing it yourself used to be how most CrossFit gyms were in the early days. Back then, there wasn't a lot of competition and marketing was pretty simple. For most CrossFit gyms in the early 2010s, it was simply opening the doors and putting up a homebrewed website. Now, the market has shifted, and visitors aren't willing to deal with a clunky process to figure out how to start at your gym.
Full done-for-you agencies are an option if you have a big budget. They can get you results by doing things like running Facebook Ads, posting content on social media, doing blog posts, or doing search engine optimization services for you. Most agencies will charge $1000 per month or more for one or some combination of these services.
On the other hand, more frugal gym owners might think the do-it-yourself route is the cheapest but it typically is not in regards to just getting the tools set up. When factoring in the amount of time spent tinkering and the opportunity costs of guessing whether or not everything is working right, this is often the least effective route.
Trying to build a good marketing system yourself has become more complex than the average gym owner has time to research and assemble, plus pre-built systems are faster to get up to speed, easier to learn, and actually less expensive (due to economies of scale) to adopt.
If you want the best value, systems are the answer. Working with a company, like Big Little Gyms, to install ready-to-go turnkey systems is the way to go. The right program will do the heavy lifting for you by setting everything up for you and then giving you the playbooks and SOPs to run the system and grow your gym so you don't have to. Like we do here at Big Little gyms.
At Big Little Gyms, our systems often yield a profitable ROI (return on investment) in just the first 6 weeks and the systems are essentially paying for themselves and compounding results thereafter monthly over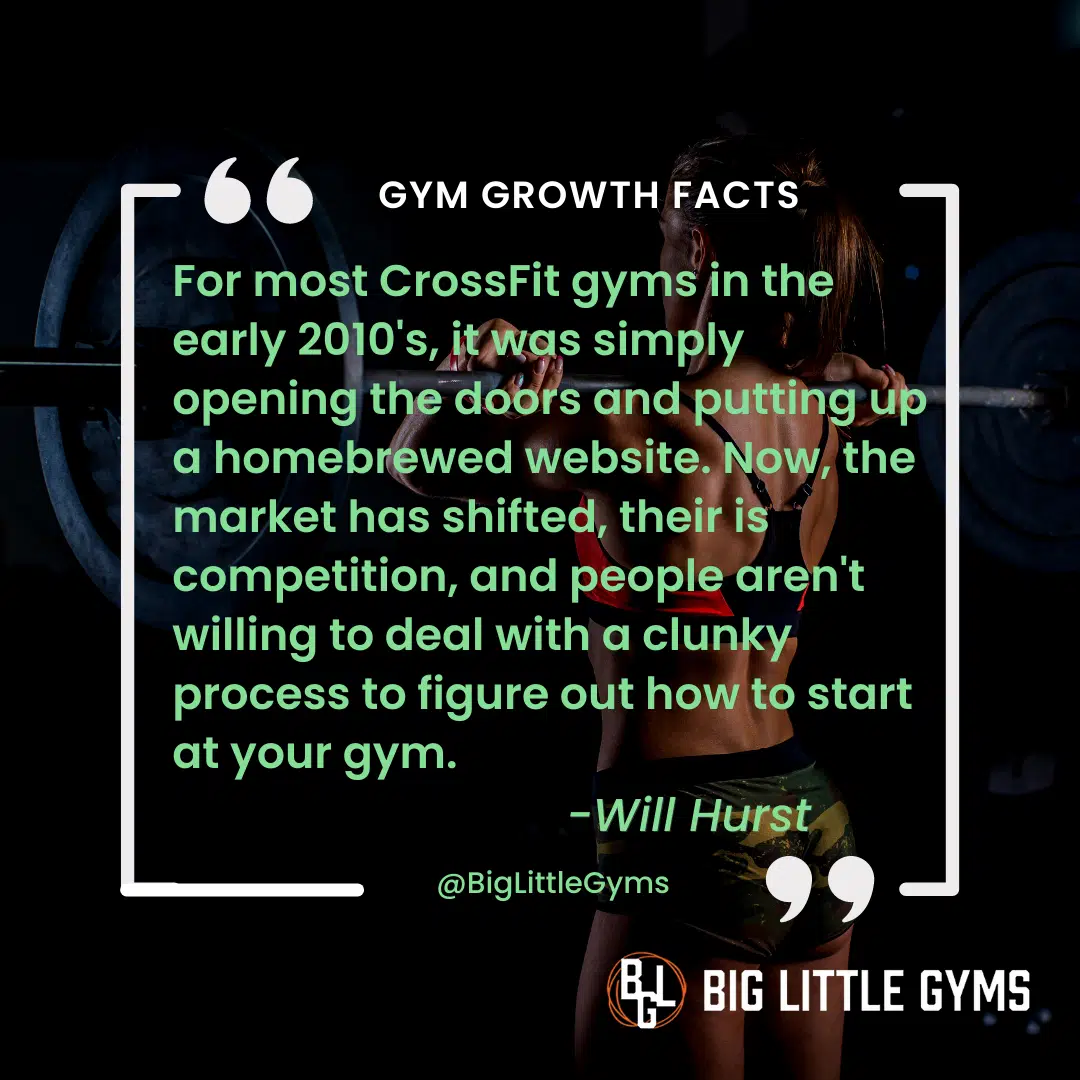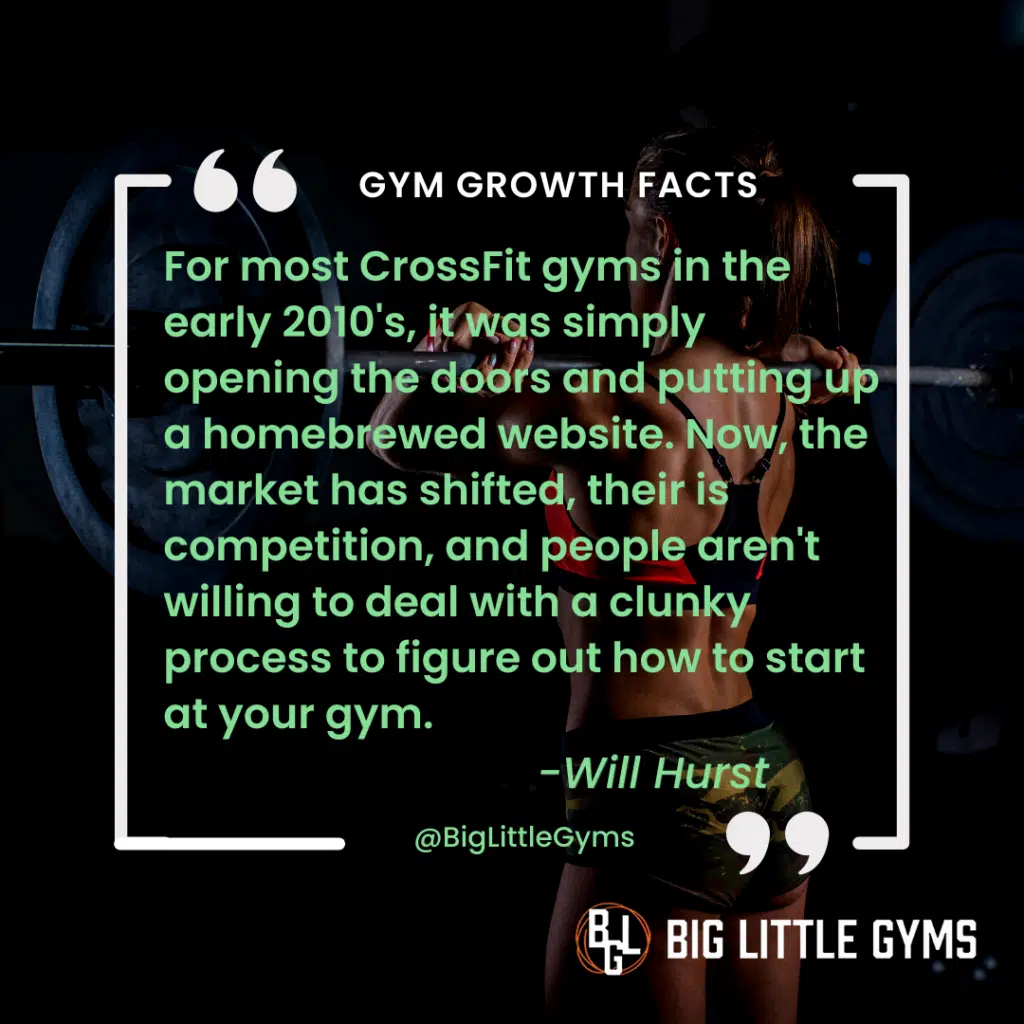 5 Common Questions About CrossFit Gym Marketing
Here are the most common questions we see from CrossFit Gym Owners looking to grow their gym:
1. What Marketing Is The Best For Growing A CrossFit Gym?
Your website, organic search presence, and consistent social media presence – Are the most common but when it comes to promoting your business using the internet, there is a multitude of options available. It can be difficult to decide which route to take, but the most important thing is to focus on the type of marketing that will reach your target user.
Do some market research to get an idea of who your audience is, where they hang out on the internet, and what they respond to. Once you have a better understanding of this, you can start experimenting with different marketing platforms.
However, be careful not to invest too much time and resources into channels where your customers don't spend their time. For example, if your target customer is a 30-40 year old female millennial living in a nearby suburb, it wouldn't make sense to pour all of your energy into local newspaper ads. The best marketing strategy is one that speaks directly to your prospective members, serves them in some way, and inspires them to want to join your gym. By keeping this in mind, you'll be on the right track to success.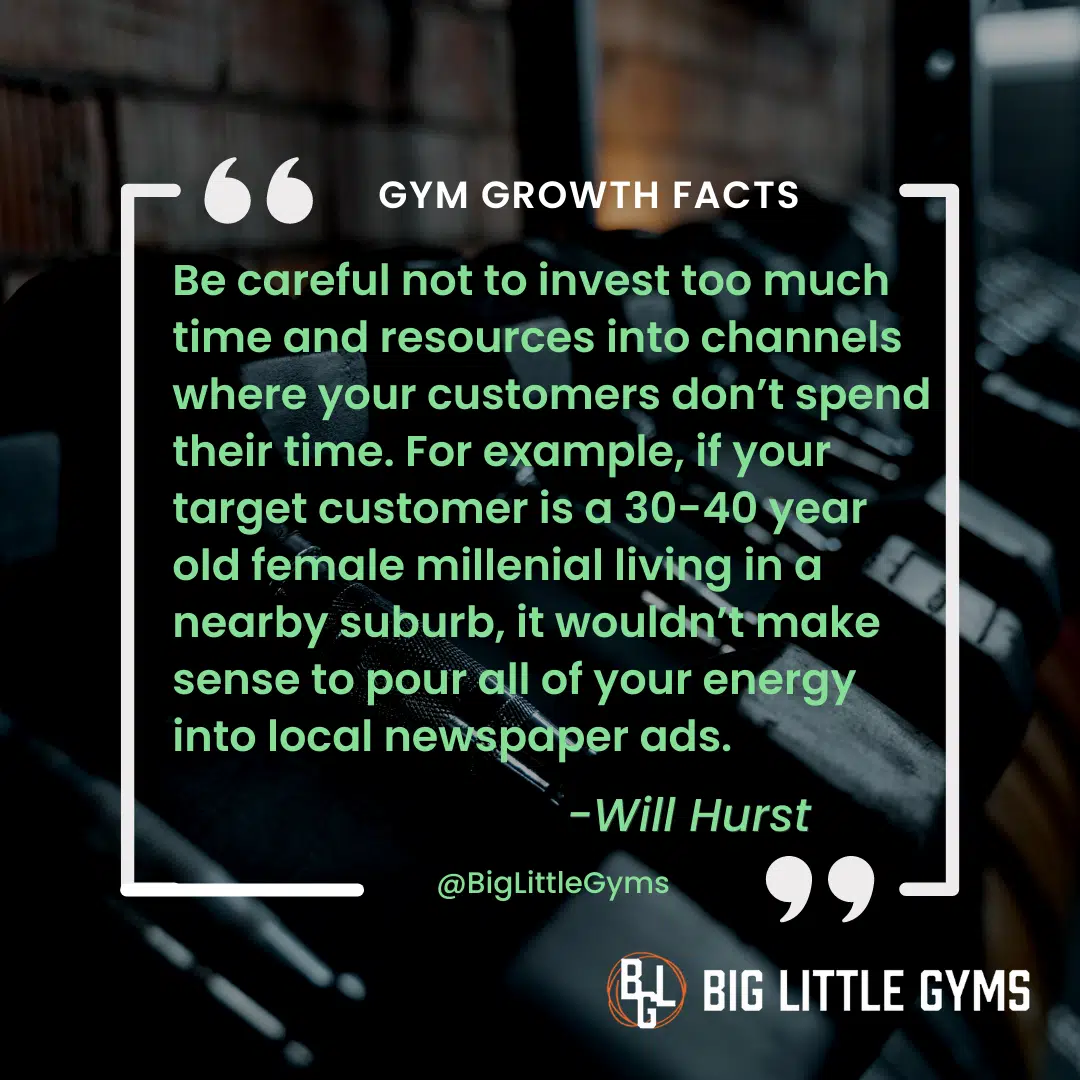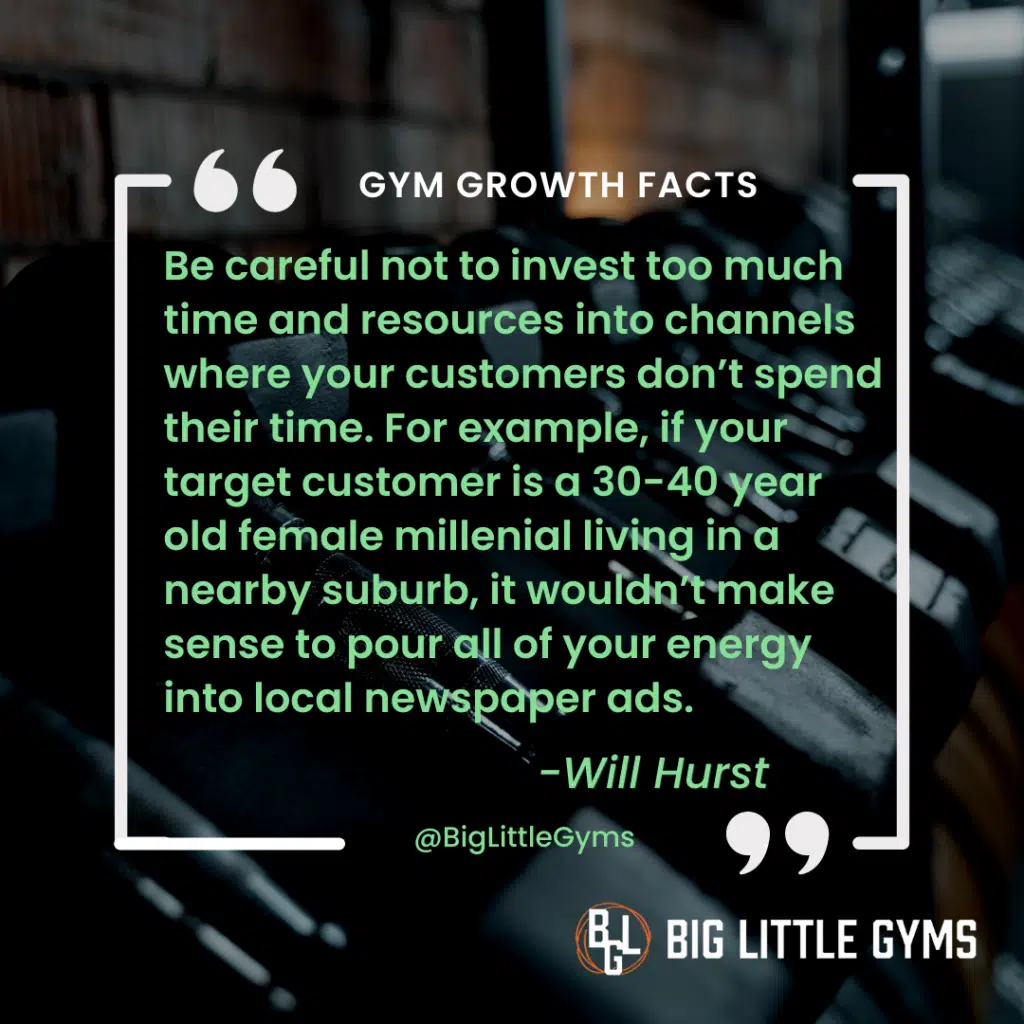 2. What Are Some Marketing Ideas For A CrossFit Gym?
First, always make sure your lead conversion mechanism is converting all the traffic you're already getting. For most gyms we start with, it is not, and it's much easier to convert more of the traffic you are already getting before looking for, spending money on, and testing new, unknown, traffic sources.
Hosting local events that are open to the public, asking for referrals, and re-engaging the list of old leads and former members are also great ways to generate new interest locally. There is no shortage of ideas when it comes to promoting your CrossFit gym.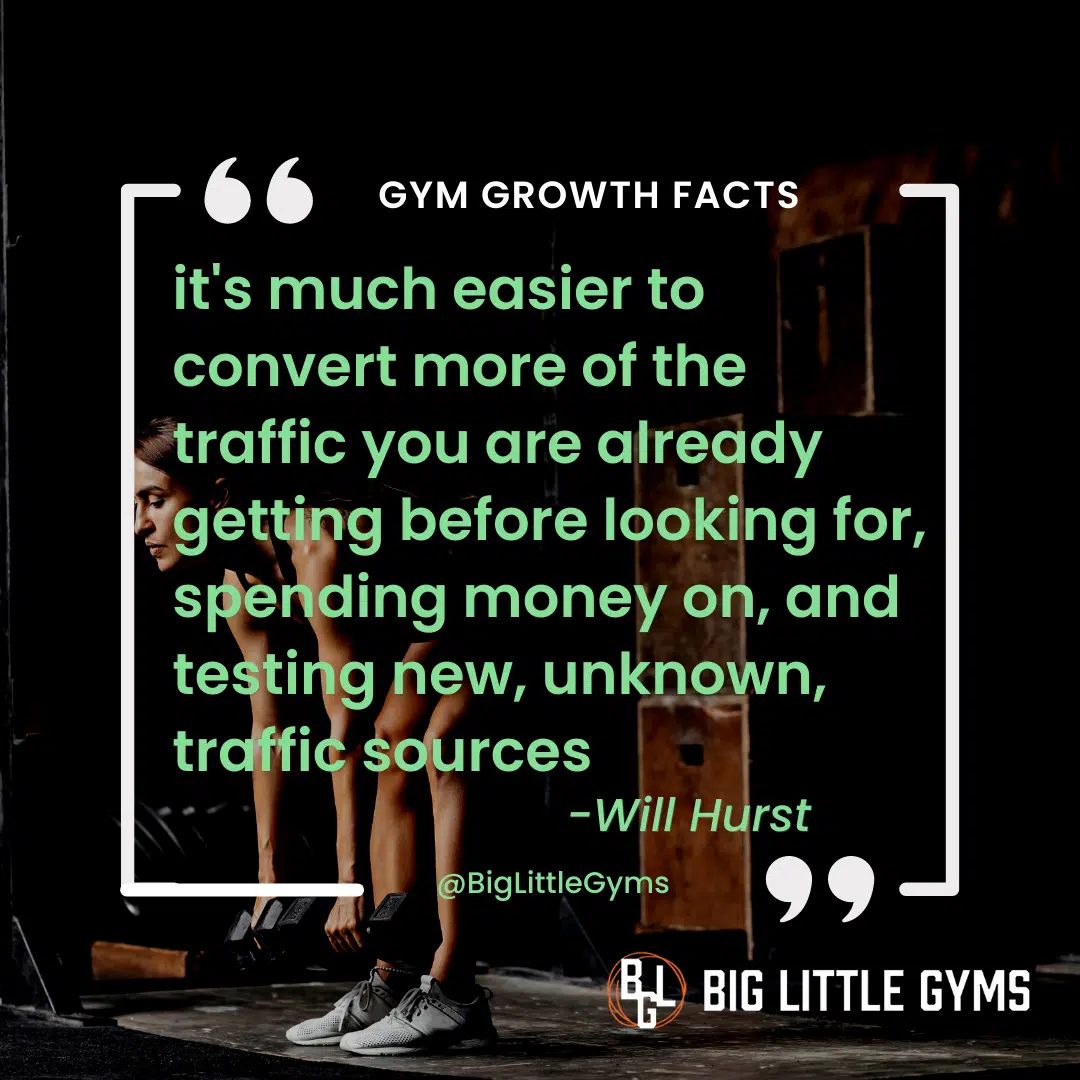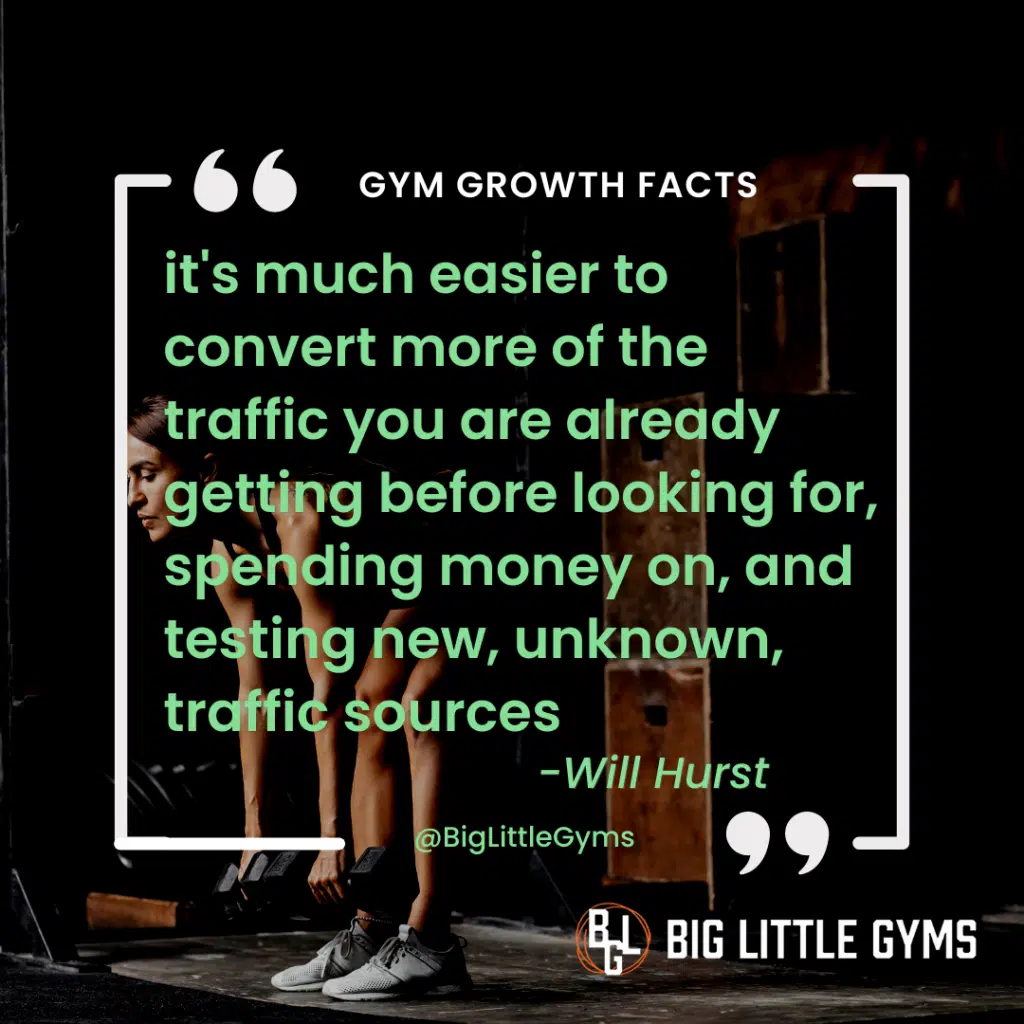 3. How Can I Advertise My CrossFit Gym?
There are a number of ways you can advertise your CrossFit gym, both paid and unpaid. If you're targeting a local market, try Facebook Ads, Google pay-per-click, Nextdoor app, and Facebook groups. You can also run local competitions to create buzz and place fliers and business cards in places like coffee shops that have a community bulletin board.
Whatever route you decide to take, make sure it is aligned with your target audience and have a good system in place to convert as much of this new traffic as you should be into the lead and put them into follow-up systems. By doing this, you'll be more likely to reach your advertising goals.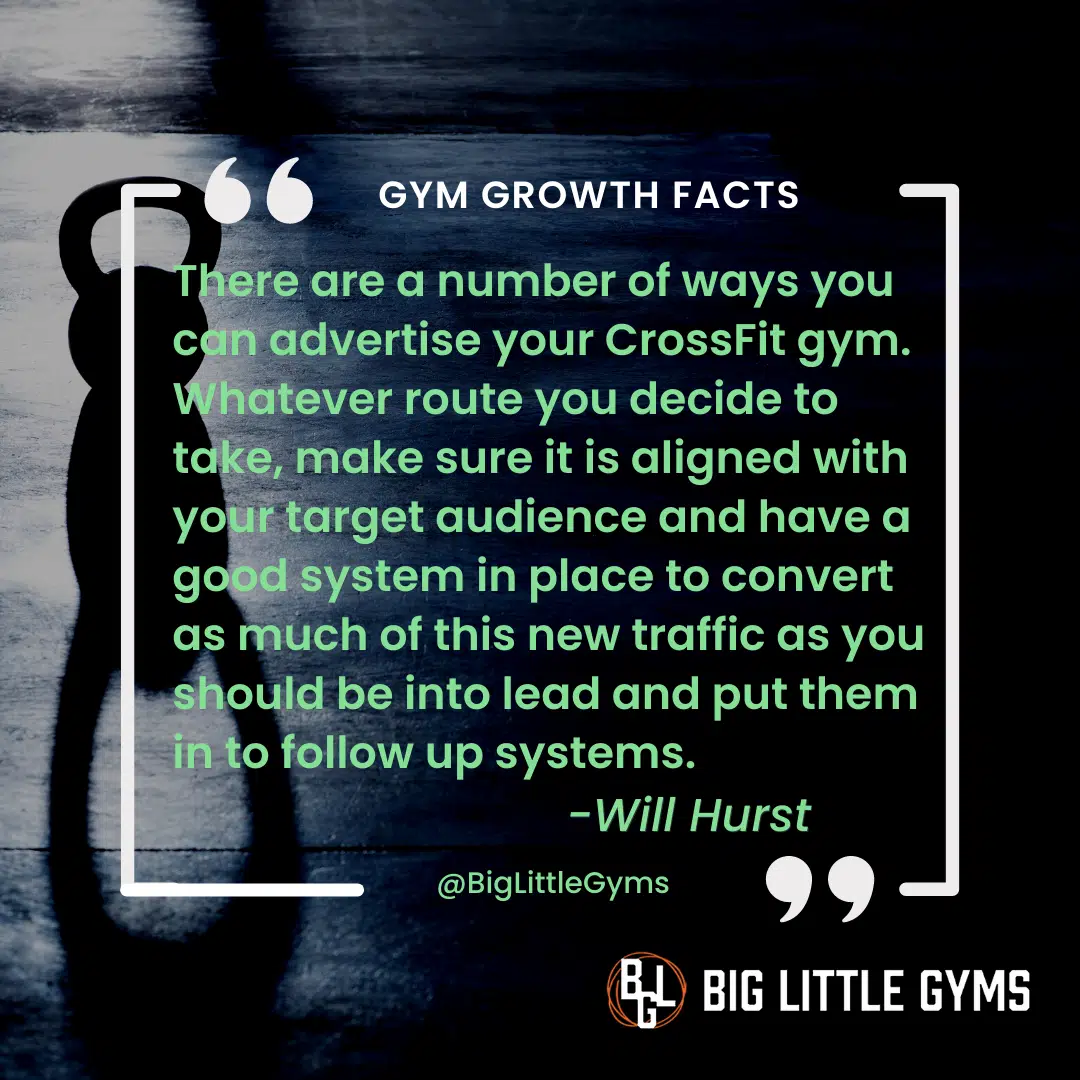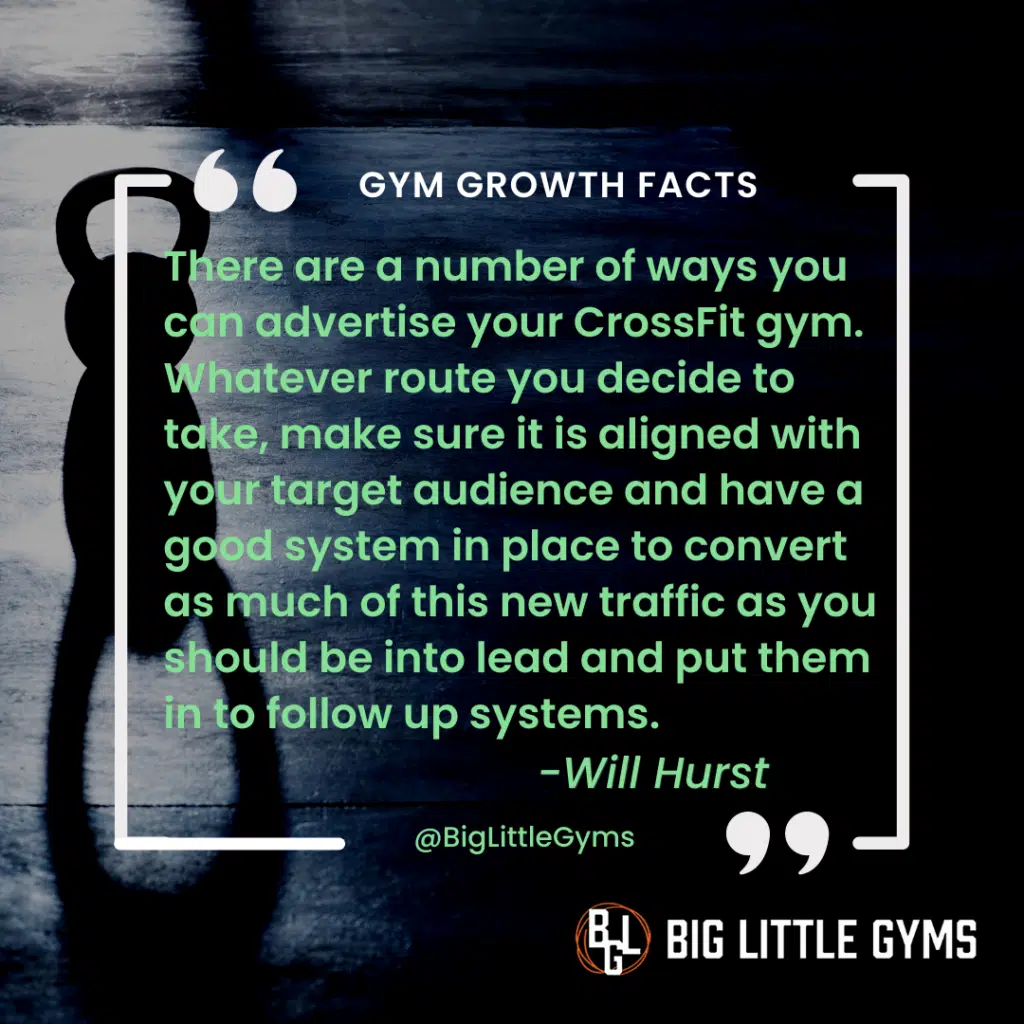 4. How Can I Promote My CrossFit Gym Without Spending Any Money?
Search Engine Optimization (SEO) is the best no-cost pathway. You own the traffic that comes to your website, as opposed to getting all your traffic from social media platforms. Platforms like Facebook, TikTok, or Instagram, can shut down your account tomorrow if they want to.
Another option is social media marketing. Even though you don't own this traffic, if you do a good job you can get visitors off the platform and on to your website. Here, you can post business-related content directly from your smartphone onto various social media channels. For maximum effect, be consistent in having a stream of content that informs, entertains, and educates locals in equal amounts. By doing this, you'll be able to reach a wide range of potential customers.
From a high-level perspective, you should have a combination of doing regular social media content and implementing best SEO practices. This can get you free traffic from those platforms while also appealing to search engine bots. Although this process may take some time to show results, it will be worth the investment in the end. By following these steps, you can ensure that your website is visible to those who are looking for it.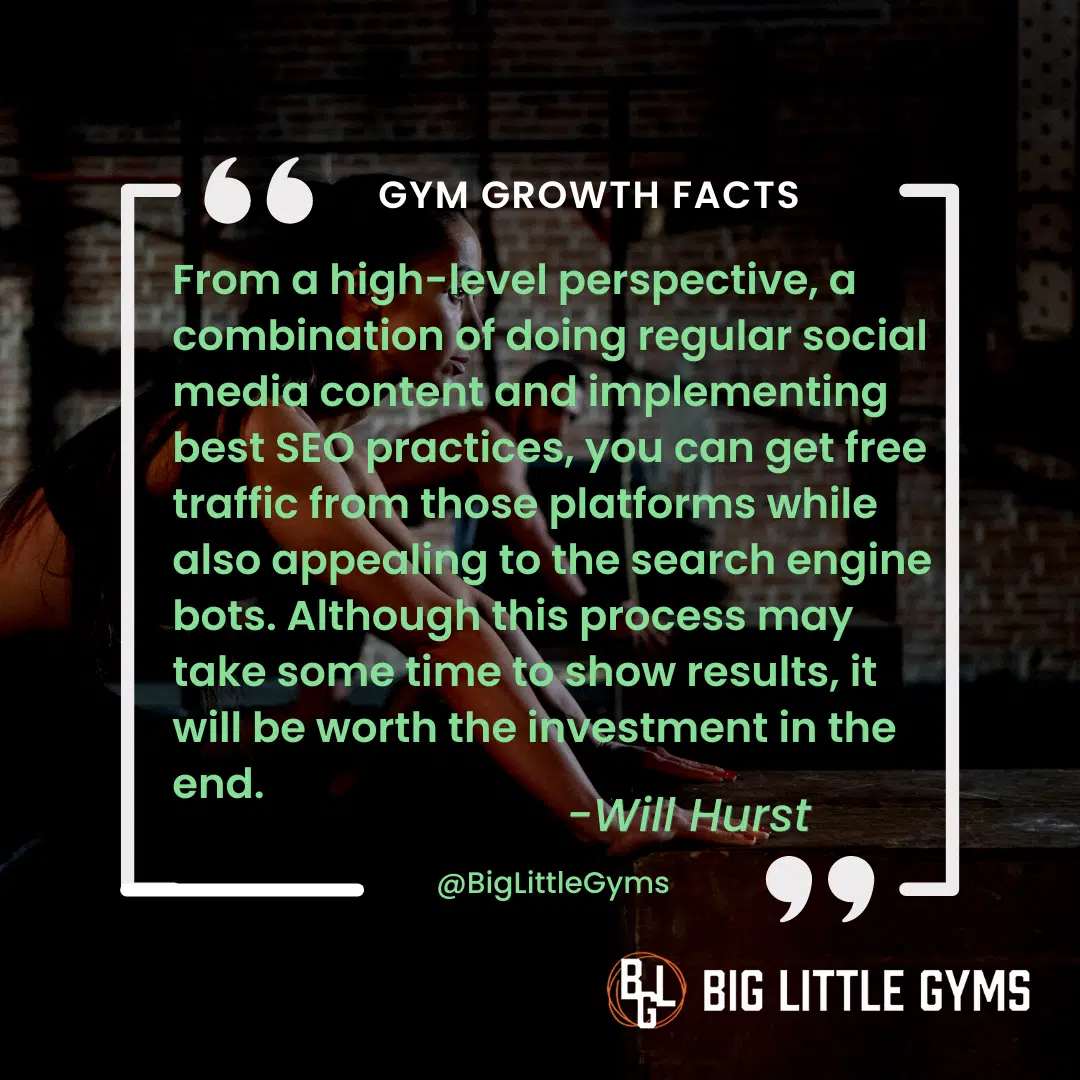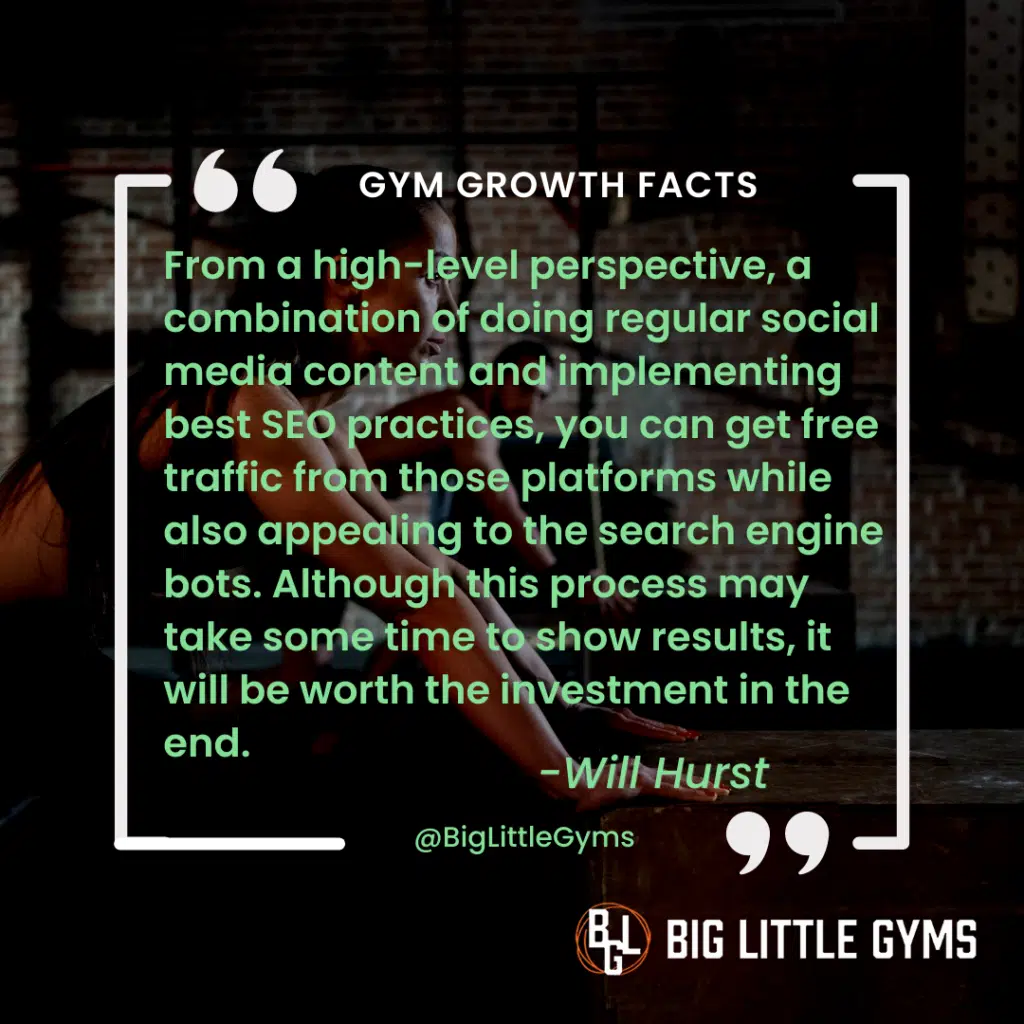 5. What Are Some CrossFit Gym Marketing Strategies and Trends?
Automation in combination with using prospect data to create personalized experiences is an effective marketing tactic for brick-and-mortar CrossFit Gyms. This could be something as simple as including someone's name in automated text message communications, or more involved, such as retargeting unconverted website visitors using retargeting ads on Facebook or Google. By personalizing the prospect's experience, you're more likely to get more traffic coming to your business and converting more of it into a consistent flow of leads and new members.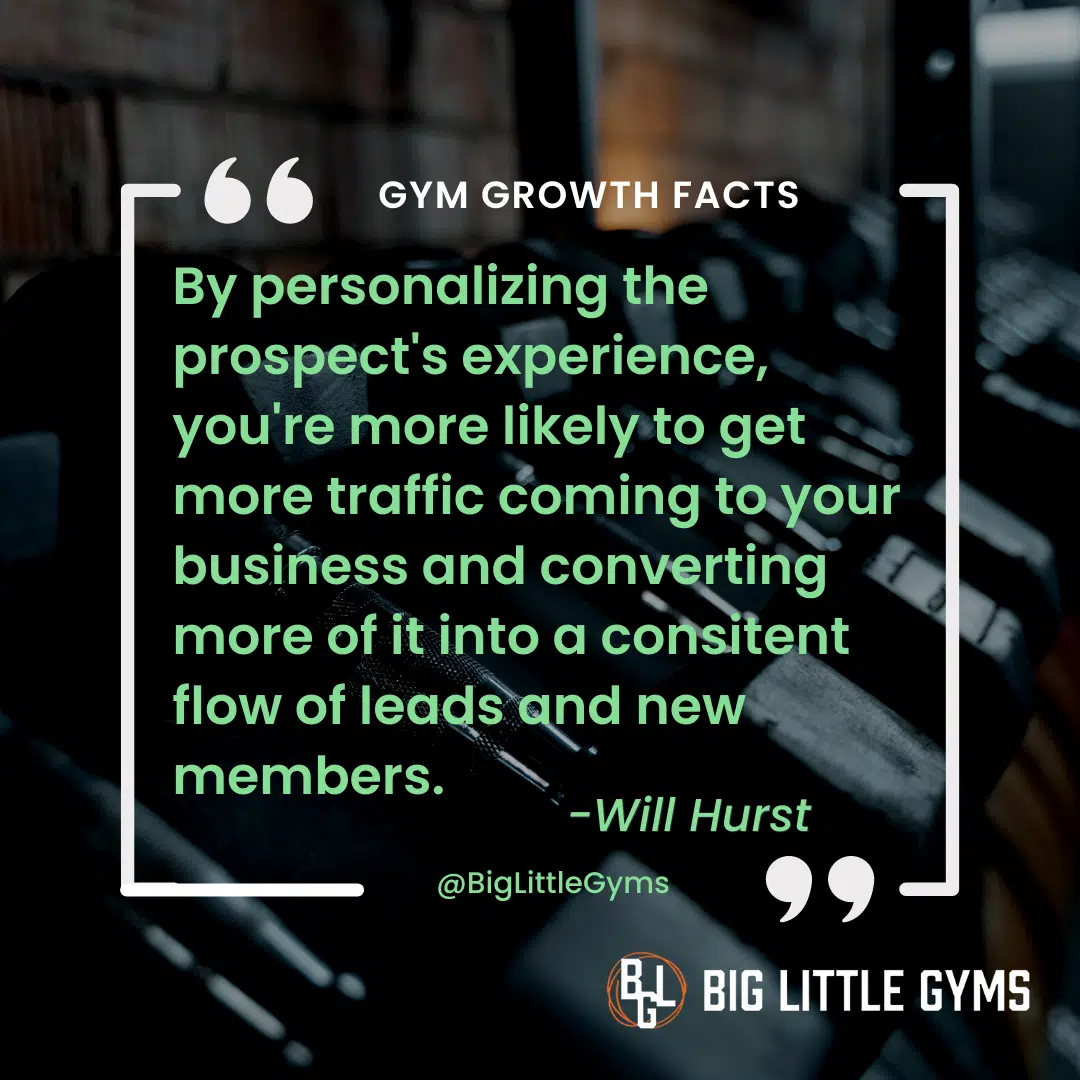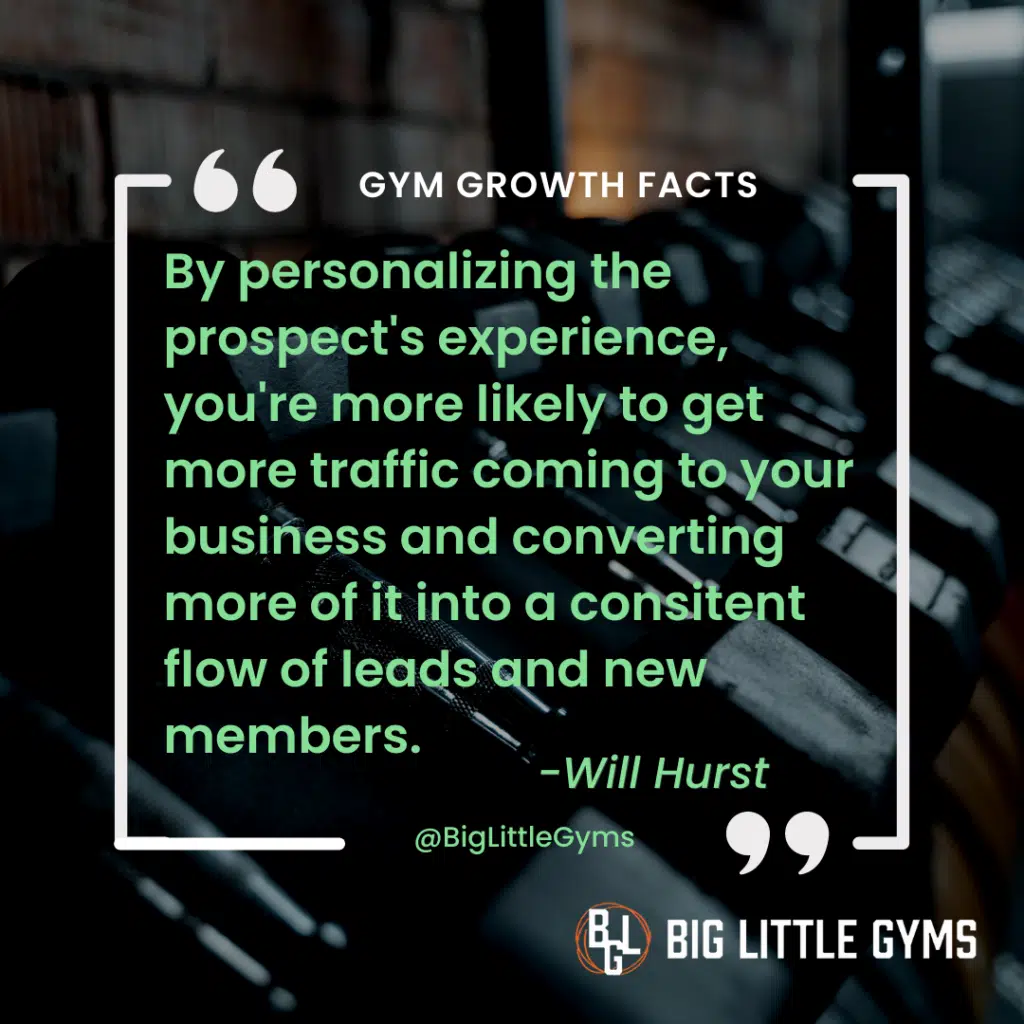 Conclusion
For CrossFit Gyms, marketing is an ever-evolving process that should be based on data-driven results. Many things that used to not require focus are now becoming important with increasing frequency.
If you're excited about growing your community, it will show in your ability to market your business. Pay attention to your marketing efforts in order to spend your marketing budget wisely and drive conversions.
Prioritizing your marketing will help you achieve your goals, such as reaching more customers, increasing revenue, and hiring more employees. In the end, you'll be glad you made marketing a priority.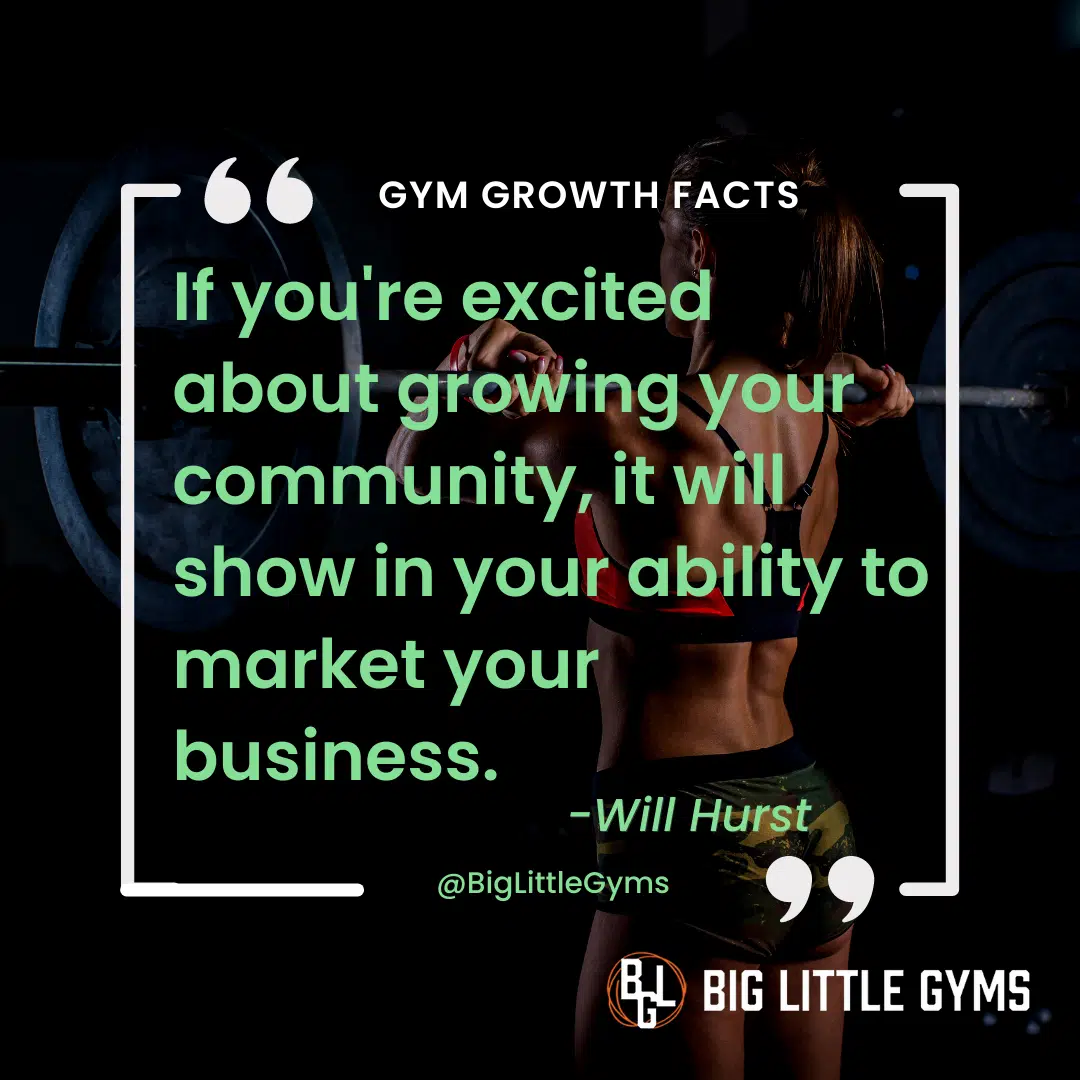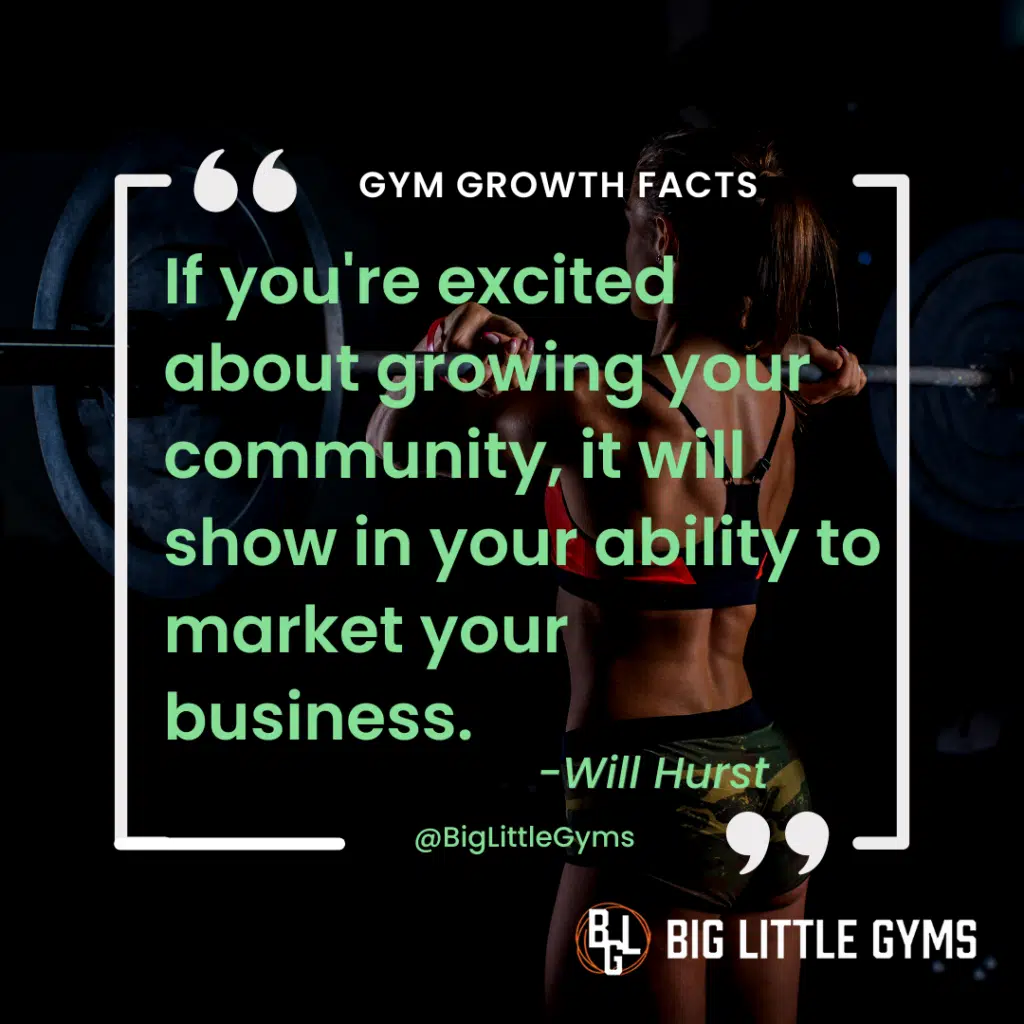 ---
READY TO GET UNSTUCK?
Big Little Gym's mission is to turn gym owners from self-employed and stuck working in their business into business owners making profits and impact.
We make gym ownership fun again by helping owners automate, delegate, systemize, and scale their businesses while becoming better leaders. BLG is a program for gym owners that includes all the strategies, tools, and systems, for those that want excellence in business. It shows you how to scale your gym to profitability using proven methods and hyper-systemization.
To learn more about Big Little Gyms you can visit our website to learn more and schedule an appointment with us.
We would love to chat with you about your business goals and see how we can help you get there. Ready to take your gym business to the next level? Fill out the form below to get started on your journey with BLG.